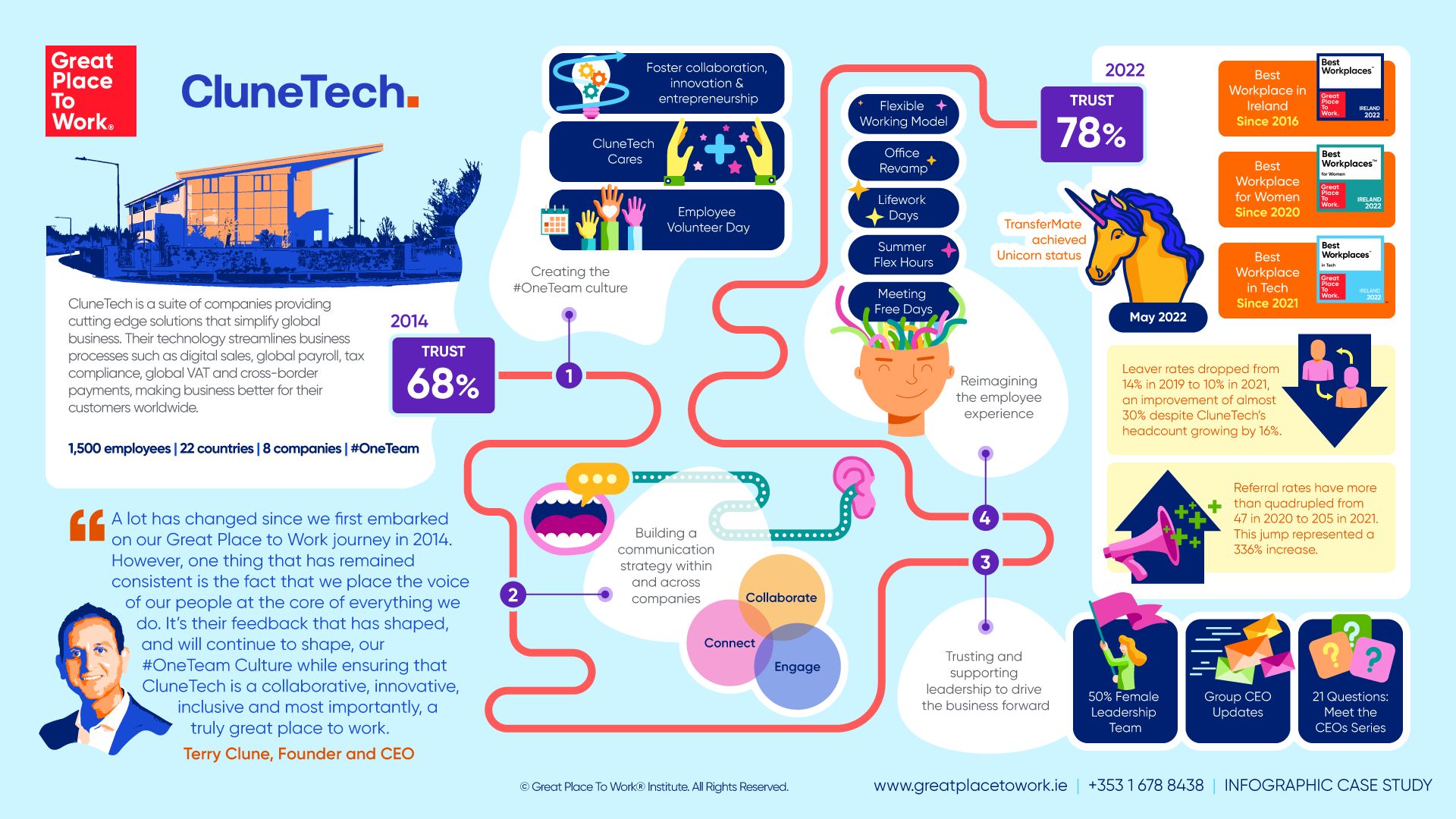 CluneTech is Ireland's Best Workplace™️ since 2016 placing them in the top 20 over the last seven years. They are also a Best Workplace™️ for Women since 2020 and a Best Workplace™️ in Tech since 2021. In 2023, CluneTech set the tone on how companies interact with their employees and was given the GPTW Team Award thanks to its dedicated Great Place to Work team across the group. This blog post will explore CluneTech's journey towards becoming a great workplace.
CluneTech Great Place to Work® Journey
CluneTech was originally created in 1996 by Terry Clune to help university students reclaim their overpaid tax. The group includes a large number of software companies to make business better for customers worldwide. CluneTech has been on a journey to create a great workplace since 2014. This journey has been marked by several milestones that have transformed the company into a workplace that fosters collaboration, innovation, and growth.
The Financial Impact
By prioritizing employee engagement and opting for the Great Place to Work programme, CluneTech as a business enhanced the company's profitability, productivity, and attractiveness to potential investors, among other benefits.
Engaged employees tend to be more productive, which results in higher revenue and profitability. When employees feel valued, they are more likely to go above and beyond their job requirements, leading to increased innovation, collaboration, and customer satisfaction. According to a study by the GPTW Institute, companies with high employee engagement are 21% more profitable than those with low engagement levels. With the Great Place to Work programme, CluneTech can leverage its employee engagement to increase productivity, which translates into higher revenue and competitive advantage. Another financial impact of the Great Place to Work programme on CluneTech is improved recruitment and retention.
A company culture that fosters trust, transparency, and collaboration is attractive to potential employees, particularly those who are passionate about their job and want to work for a company that aligns with their values. The Great Place to Work programme provides a competitive edge in attracting top talent, reducing recruitment costs, and increasing retention rates. Additionally, companies with high retention rates can save money on training and onboarding costs, which can be reinvested in other areas of the business.
Investors are increasingly interested in companies prioritising their employees' well-being and creating a positive work environment. Companies with engaged employees tend to have a better reputation, which can translate to increased investor confidence and better access to capital and higher long-term growth potential.
As a result, CluneTech subsidiary TransferMate achieved unicorn status with a $70 million fundraise and Railpen, as a new shareholder, one of the UK's largest fund pensions.
📣 Transform your organisation into a Great Place to Work® in 2023
Get recognized for your commitment to building a better employee experience with Great Place to Work-Certification™. Through Certification, companies gain access to the tools needed to become a great place to work for all. Ask us about How to get Certified™ today.
The kick start of their journey
CluneTech began its Great Place to Work journey in 2014. During the first two years, their Trust Index Survey©️ results highlighted the need to benefit from further cultural developments to identify focus areas and translate knowledge into action.
"I think for a long time we were playing catch up. We were an Irish company that was competing with the big boys and girls in tech, but we weren't quite there yet..."
Rachael O'Shea, Head of Employee Experience at CluneTech on the Red Cube podcast.
🎙️🎧Listen to Rachael O'Shea, Head of Employee Experience on the Red Cube Podcast, here. 👈
They decided to work on their culture to ensure their employees were truly listened to and acted on their employees' feedback. Here are a few areas where they decided to take action:
1. Creating the #OneTeam culture
To foster a culture of collaboration, innovation and entrepreneurship, CluneTech focused on putting their people in everything they do to encourage employee feedback, well-being and collaboration shaping their #OneTeam culture. They developed a CSR programme called CluneTech Cares that included an Employee Volunteer Day in their benefits. Employees who receive such benefits can support activities to enhance and serve their communities. With the belief that contributing to such projects enriches the lives and promotes the well-being of their employees, the company sponsored 34 different causes in 2021, including the Irish Cancer Society, A Very Special Place, and Jack & Jill.
2. Building a communication strategy within and across companies
CluneTech has won the Great Place to Work Award this year due to its Great Place to Work Team. This group of volunteers from all areas across the organisation was originally created to act as the voice of employees. They aim to promote positive change through a happier work environment. One of their key focus areas is to improve employee benefits so that CluneTech can both attract and retain top talent. They are the voice of the employees, making sure that their views are brought to management, to provide a great workplace for all.
For employees to feel heard and to get real-time feedback on what the company can do better, the GPTW team have implemented Workvivo, an internal communication platform where staff could communicate and connect in a fun way.
"In an increasingly disconnected hybrid working environment, promote collaboration and communication among teams, which leads to better problem-solving and improved work performance."
Alice Vigneron, Marketing Coordinator at Great Place to Work in the Irish Times.
CluneTech ran a campaign called "Meet the Great Place to Work Team" to promote this team on their internal communication portal, Workvivo. The campaign was shared on Workvivo and consisted of one video per team member. To have some level of consistency, each video answered a set of questions such as, "What do you love about being a GPTW rep?", "What's been your favourite improvement to date?", and "Why is Clu­neTech a Great Place to Work?"
Workvivo's successful campaign between teams has promoted collaboration and communication, increased flexibility and productivity, and created a sense of belonging. This has proven to go above and beyond to ensure employees are aware that there are supports in place for them, to promote positive change.
3. Trusting and supporting leadership to drive business impact.
One of the most effective strategies that CluneTech has implemented is regular communication between leaders and employees. In 2021, CluneTech introduced the 21 Questions: Meet the CEO Series, which provides employees with an inside look at the company's leadership team. By building transparency and trust, promoting company culture and values, and creating a dialogue between the CEO and employees, the program can help to build a more engaged and motivated workforce. Moreover, leaders hold regular team meetings, one-on-one meetings, and town hall meetings to keep employees informed about what is happening in the company during group CEO updates. A supportive work environment depends on open communication between leaders and employees.
4. Reimagining the employee experience
In addition to its commitment to continuous improvement, CluneTech has implemented initiatives as a result of employee feedback through the Trust Index Survey. These actions were designed to improve work-life balance and employee well-being. They include fully paid healthcare, an increased pension, and a permanent Flexible Working Policy that offers various flexible work opportunities. Summer Flex Hours, for instance, allow employees to work alternative hours to their normal schedules during the summer months. CluneTech strives to encourage work-life balance and flexibility for its employees.
Through all these measures, CluneTech's trust level increased to 78% in 2022, achieving recognition as Best Workplace™️ in Ireland in 2022 and 2023 in the Large Category.
By being the bridge between employees and management, the Great Place to Work team thrives to improve CluneTech employees' experience in the workplace.
Learn more about CluneTech's Great Place to Work journey here 👇
About Great Place to Work®
Great Place to Work® is the global authority on workplace culture. We help organizations quantify their culture and produce better business results by creating a high-trust work experience for all employees. We recognise Great Place to Work-Certified™ companies and the Best Workplaces™ in more than 60 countries.
To join the thousands of companies that have committed to building high-trust company cultures that help them attract, retain and take care of their people, contact us about getting Certified™ today.
Ireland's Best Workplaces™ 2023
👇 Click on the image to download The Irish Times special report 👇