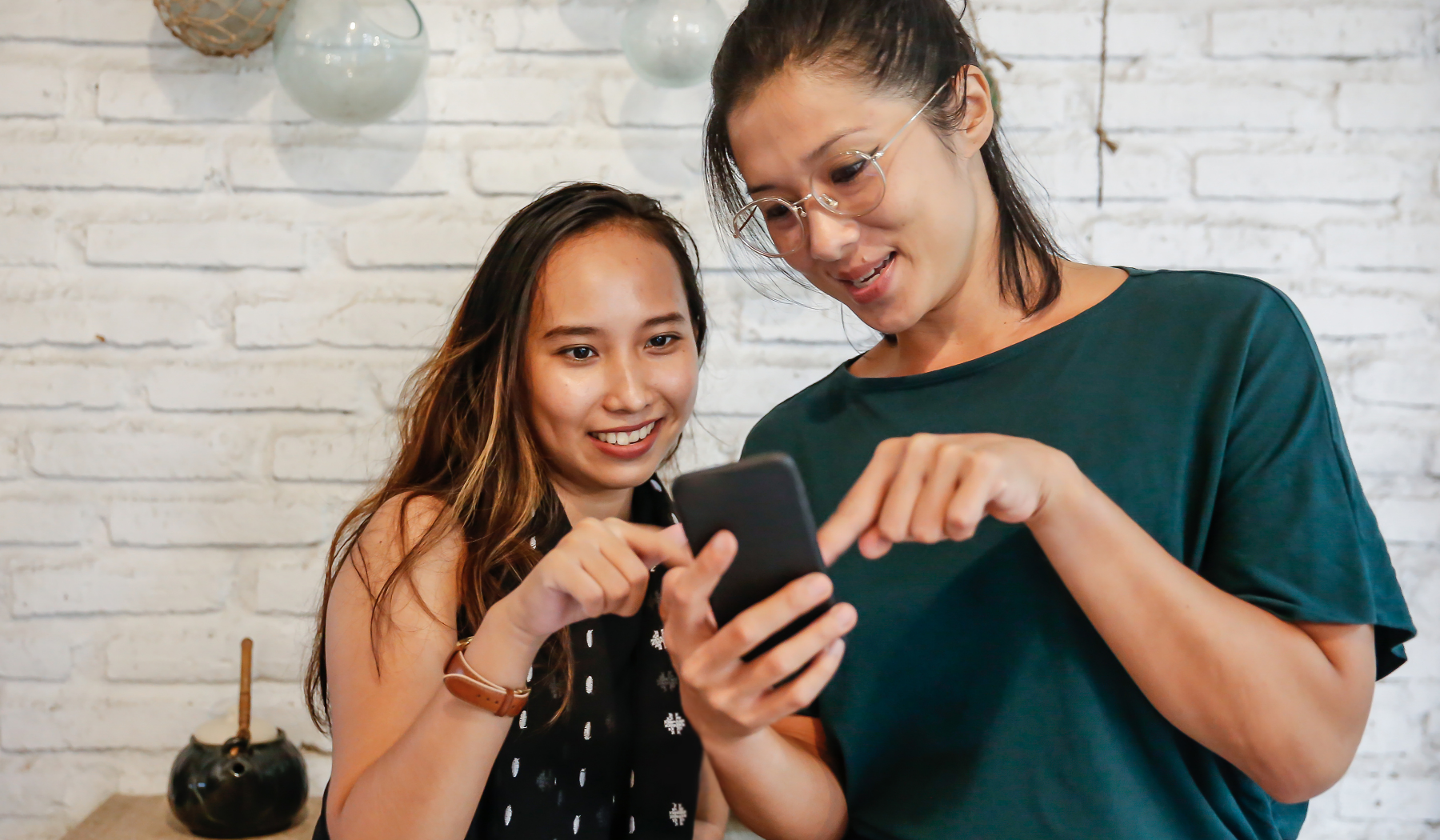 What was your company's latest social media post? Was it about your product? Or was it about your people?
How often do you feature employee stories on your social media? (If you do it at all.)
Social media is one of the most important tools providing instant reach to an audience in real-time. And yet, while millions of businesses have social media accounts, two critical factors are too often overlooked:
Social media is social, meaning it's meant to be a two-way conversation, not a broadcast
Marketing your people and values is just as important as marketing your goods and services
Why you should feature employee stories on social media
Sharing employee stories on social media shows potential job candidates what they can expect from your company culture. It's also cost-effective and possible with a dispersed team.
More consumers want their money to go to companies they feel align with their values. In fact, a 2020 study by PR firm 5W found that:
71% of consumers prefer buying from brands with aligned values
That number jumps to 83% among millennials
That alignment also applies to employees, who are increasingly seeking out workplaces that fit their values.
Our own Great Place to Work® research found that there are 3 keys to employee retention including company reputation and a sense of purpose. And Gen Z employees cite a warm welcome and mentally healthy workplace among its top factors when applying for jobs.
Which is why featuring employee stories on your social media is so important. Sharing employee stories on social media is a way to showcase your company culture and values and attract customers and potential hires alike.
But how do you share employee stories in a way that's authentic and engaging while your team is dispersed?
Here are five ways to feature employee stories on social media that will work for remote and in-person workplaces, starring examples from Certified™ great workplaces in Ireland.
How to share employee stories on social media
1. Share employees' quotes about their lived-experience in your workplace
If you would like your employees to share their stories, the most effective way is to ask them! Email your employees and ask them if they would like to submit a short quote describing their experience working in your organisation. By sharing some short and snappy quotes, candidates and customers landing on your accounts will have a sense of the internal experience at a glance. Check below how Net Affinity has created an impactful post with one of their employee's quotes.
Here are some guiding questions for your employees who want to submit quotes:
What is one thing you value the most at [insert your organisation name]?

How would you describe the culture at [insert your organisation name]?

Why would you recommend working at [insert your organisation name]?



Tips: If you already are a Great Place to Work-Certified™ organisation, you might have already filled in some employee quotes in the "What employees say" section of your Company Profile Page on our website - no need to reinvent the wheel!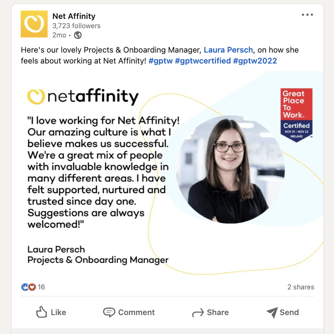 2. Encourage your employees to share their stories on their own Social Media accounts
Your employees are your best ambassadors! There is no more authentic way to promote your employer brand than when employees share their own stories, on their own accounts! It is also a fantastic way to reach their network and emphasise employee referrals. And more than promoting you as a great employer, it also develops their personal brand. Don't hesitate to collaborate with your employees on this, as some of them might need support and guidance at first. They might not know what and when to share. Send them a short guide with main hashtags, examples and scheduling tips. Make it easy for them!
For example, employees from AbbVie, Cpl Ireland and Cloudera have shared their excitement about the Best Workplaces™ in Ireland and their experience in their organisation, using relevant hashtags and branding.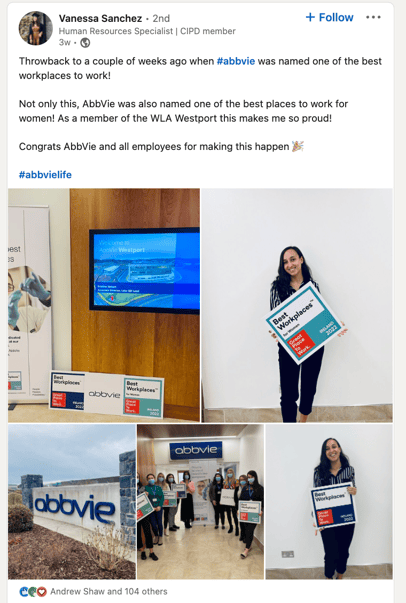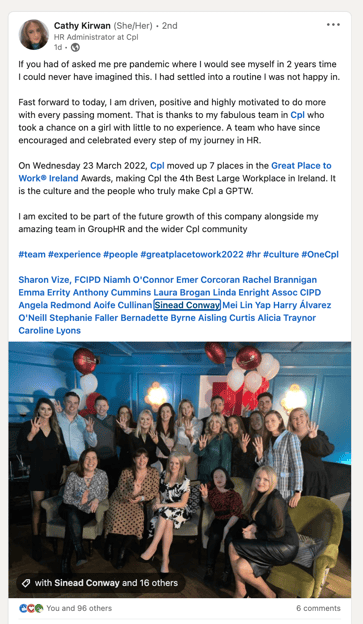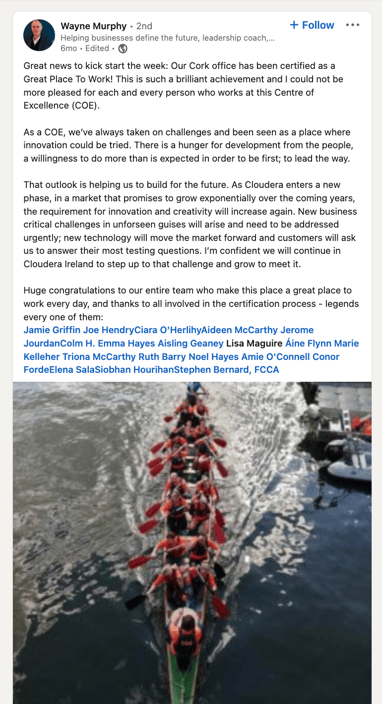 3. Participate in theme days for maximum reach
Global theme days (or even themed weeks or months) are a social media gold mine. Not only do they supply you with a focused content topic, but they enable you to take part in a worldwide conversation and reach more people.
Days like Employee Appreciation Day, Certification Nation Day or World Mental Health Day are perfect times to show off how your workplace is making the world better – especially when you can connect those themes directly to your employees' stories.
For example, check out how Version 1 and Distilled honoured the women on their team for International Women's Day this year, through a campaign putting a spotlight on their female members, with dedicated interviews.


4. Develop an Employee Spotlight Series with blog interviews
Thinking of highlighting your employee's experience on Social Media? Develop a series! Take some time during the month to interview your people internally and share the interviews regularly. You can develop a set of questions to use for each interview or can tailor the questions to each employee's experience. Feel free to bring a bit of craic!
Remember to use the same visual identity so potential candidates can recognise your posts at a glance. Consistency is key! By sharing an interview monthly, you are building your credibility as an employer and increasing the authenticity of the series. And don't forget to add a link to your last job offers in the Social Media posts!
Some name ideas for your employee's spotlight series:
'Day in the Life'
'Employee Spotlight'
'Meet the Team'
'Career Spotlight'
'Life at [insert your company name]'
Check how Version 1 and Distilled host a monthly employee spotlight on their Social Media accounts.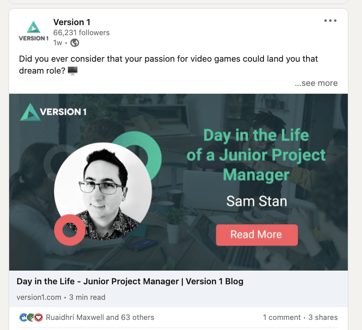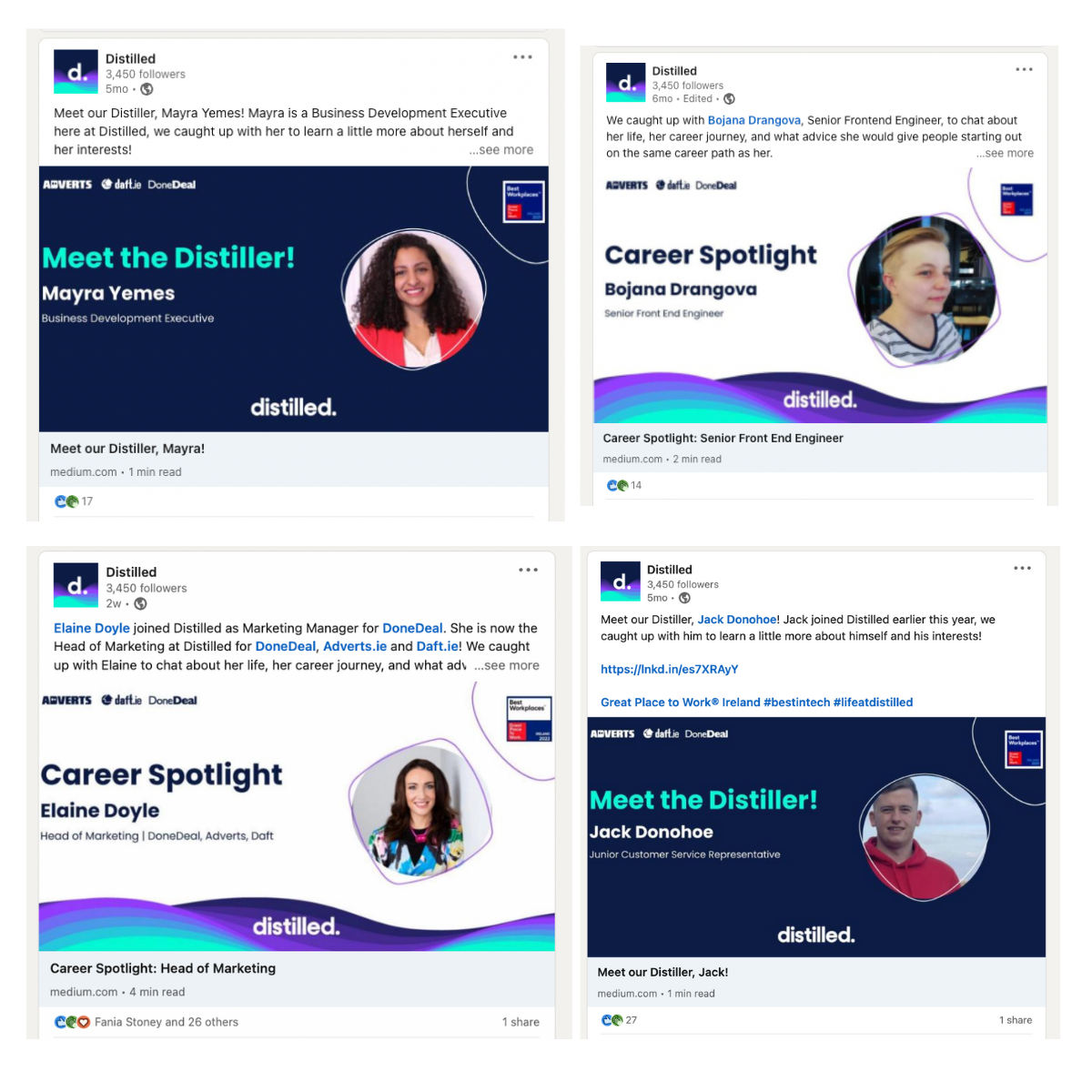 5. Video interview your employees about their employee experience
Same as the above, but in videos! Video content is the most engaging format on Social Media for years now, and our brains remember video content more than reading content. Millennials and Gen Z are fond of this format, making Titkok the most downloaded app in 2021. That's why Esri Ireland and Version 1 are using videos to promote their employee experience.
Don't miss the trend! However, make sure you follow some key rules:
The videos should be longer than 3 minutes
Make sure the content shared is reusable for several purposes
Include subtitles (85% of Facebook videos are watched without the sound on)
Ensure a great sound quality: avoid background noise or echo
Don't script it! Reading a script on video damages the great authenticity you are trying to showcase. Stay natural!
Tips: If you are a Great Place to Work-Certified™ organisation and already have some employee videos or thinking of making one, don't forget to include them in your Company Profile on our website to reach more candidates.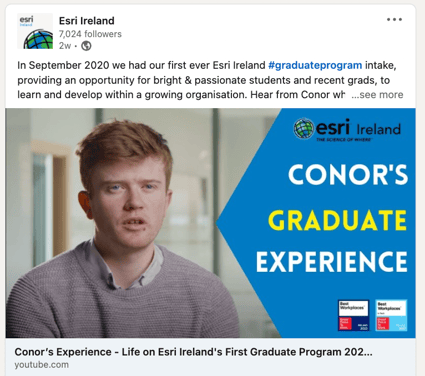 6. Develop a corporate + employer brand video
Are you willing to invest in creating an all-purpose video? Ask your team members across several departments to participate in a lived-experience video. It is also a fantastic way to showcase your (brand-new) offices and all your great benefits and perks. Seeing current employees evolving in their environment brings even more credibility, and inviting your people to participate will increase pride levels internally!
Have a look at Toast and Scurri wonderful corporate videos about their great culture, which they can also use in any hiring campaigns.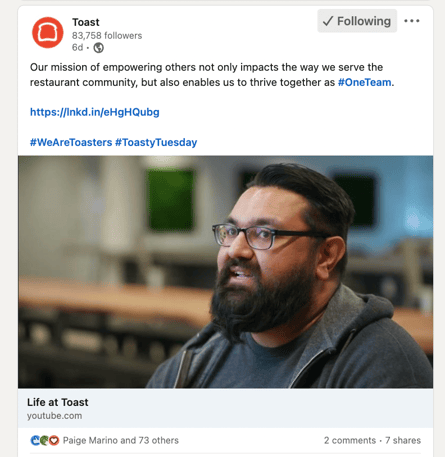 7. Employee social media take-overs
Hand your account(s) over to your employees and let them speak for themselves. That could be something like a "day in the life" on TikTok, an interactive Twitter chat, or an Instagram 'Ask Me Anything.'
Of course, blindly giving the reins of your brand accounts may not fly with your PR and communications team. But if the employee and the marketing team collaborate on the message, you can come up with some creative and authentic employee stories!
About Great Place to Work®
Great Place to Work® is the global authority on workplace culture. We help organizations quantify their culture and produce better business results by creating a high-trust work experience for all employees. We recognise Great Place to Work-Certified™ companies and the Best Workplaces™ in more than 60 countries.
To join the thousands of companies that have committed to building high-trust company cultures that help them attract, retain and take care of their people, contact us about getting Certified™ today.