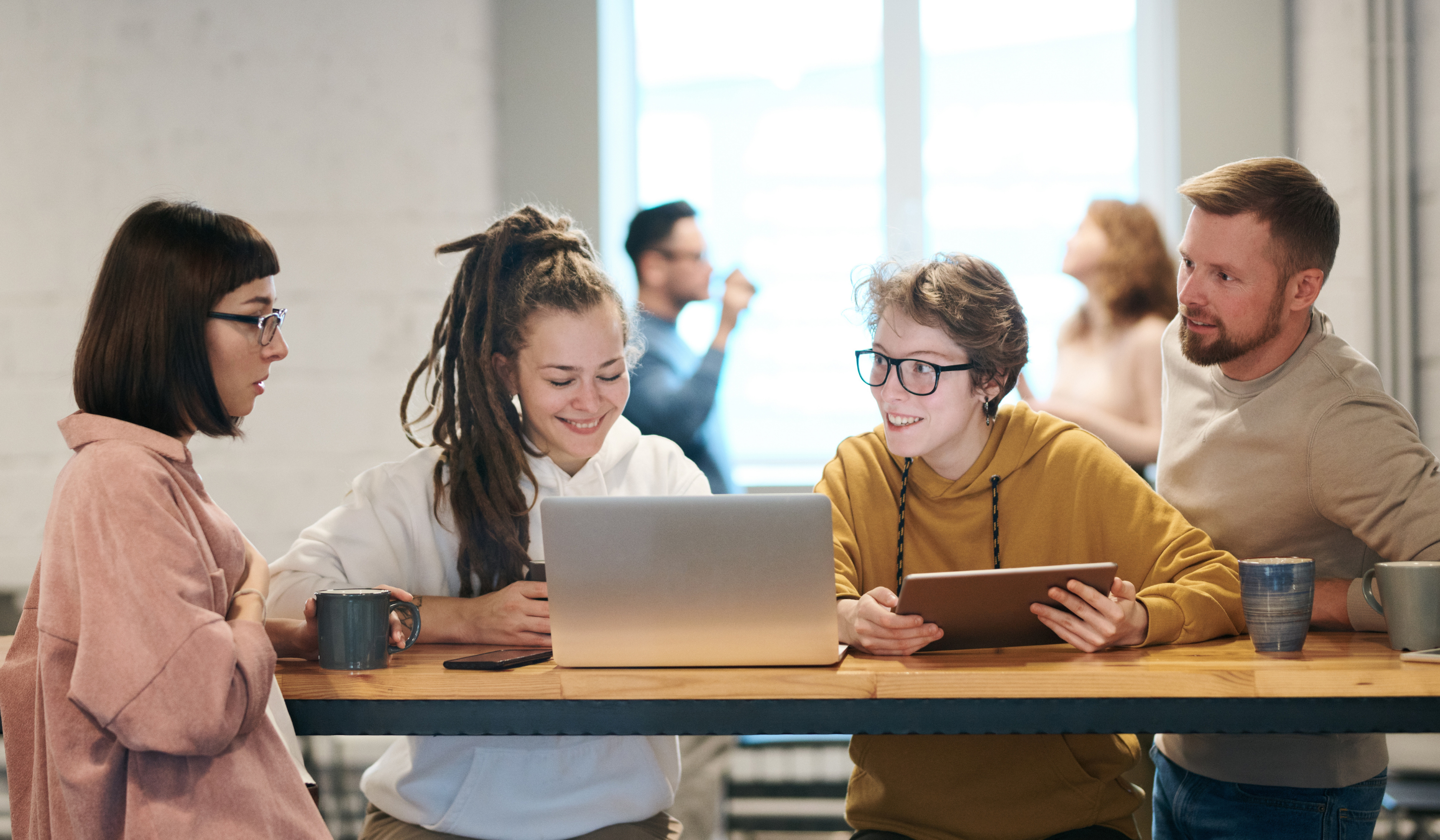 Researchers at Great Place to Work and Johns Hopkins University Partner on Study that Reveals Key Insights in Promoting Employee Well-being
What is employee well-being? How can leaders create a company culture that nurtures employee well-being? Leaders are asking these questions because not knowing the answers means missing out on a key driver of effective teams and a thriving business.
At Great Place to Work®, we partnered with researchers at Johns Hopkins University's Carey Business School to engage in a special employee well-being study.
What is employee well-being in the workplace?
Promoting employee well-being in the workplace means looking beyond people's physical health and the type of work they do. These two dimensions are important yet only part of the complex blend of experiences shaping people's well-being at work. When employees consistently have positive experiences across areas that contribute to a high level of well-being, they can flourish inside and outside of work.
Methodology
We surveyed over 14,000 people from 37 countries to better understand factors in the average worker's day-to-day that contribute to employee well-being in the workplace. We then contrasted those findings with Great Place to Work's global database of millions of employee surveys to identify drivers and practices used by Best Workplaces™ worldwide to improve employee well-being.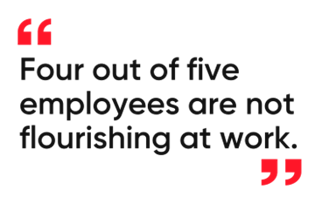 "Employee wellbeing was already a key focus in organisations' people strategy two years ago," says Cathal Divilly, CEO of Great Place to Work Ireland. "Organisations that had invested in their employee wellbeing and workplace culture before the pandemic have overcome challenges with flying colours."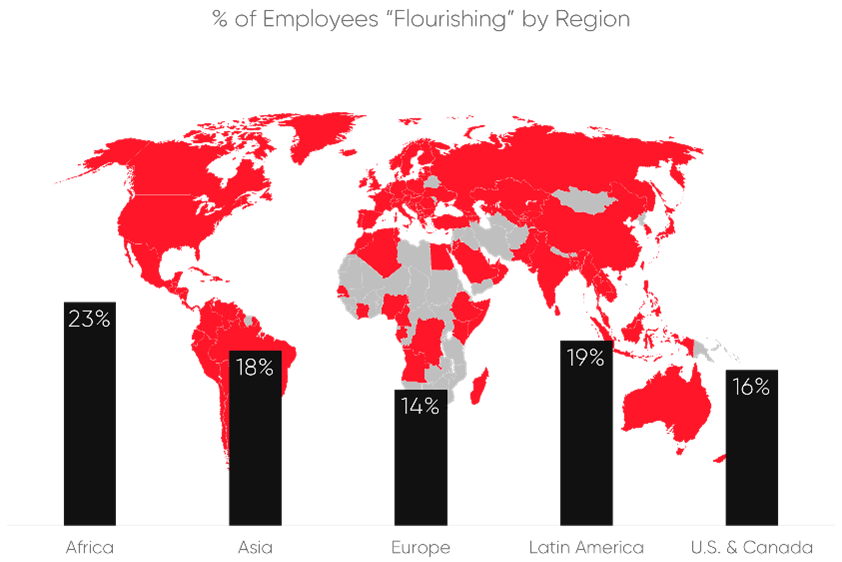 Because of the potential impact on the future workplace, there is a growing urgency to address employee well-being. This has inspired leading companies to develop better approaches for understanding and improving employee well-being.
To attract, retain and sustain great talent, HR leaders now focus on supporting holistic well-being at work, including:
Mental/emotional support

Financial health

A sense of purpose

Personal support

Meaningful connections
How are most companies doing in these efforts? Not great. Overall, we find that four out of five employees are not flourishing at work.
"The global data shows us that only 17% of workers are in a high state of well-being, what we would call flourishing," states Professor Richard Smith at Johns Hopkins University. "Unfortunately, nearly as many, 14%, are in a low state of well-being."
While experiences of well-being vary slightly between geographical regions, the benchmark remains low worldwide.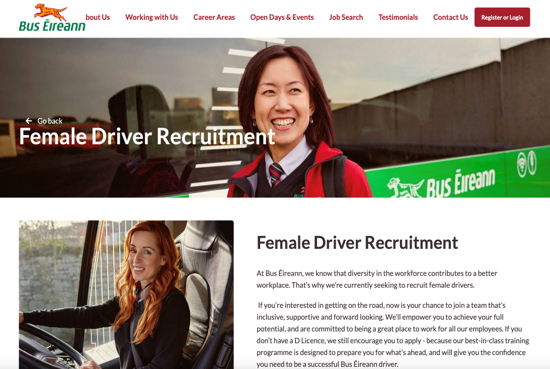 The same is true across industries. Even in industries where employees return the most positive results – such as in financial services where one in five employees are flourishing – the vast majority still report a workplace climate that does not allow well-being to thrive.
Key Aspects of Wellbeing at Work
Only 45% of Irish respondents in the study felt that their organisation is a psychologically and emotionally healthy place to work, which is worrying low and lags behind the global response of 55%. In a pre-pandemic environment, an organisation might have gotten away with the occasional nod to wellbeing – a fruit basket here, a yoga session there. The pandemic experience has given people the chance to reflect on what is really important to them, particularly when it comes to their health in the workplace, and how their organisation is – or isn't – supporting them in that. People are asking increasingly savvy questions at interviews too, and opting out of working for organisations that aren't able to articulate their approach to health and wellbeing.
In this study, a clear deficit of purpose at work emerged. Many workers lack the experiences of meaning, fulfilment and progress needed to flourish. Among respondents, 42% reported not finding meaning in their work, while 37% indicated they felt their work does not make a difference.
Any organisation can invest in a health and wellbeing strategy, the challenge lies in creating a sustainable, strategic and genuine wellness culture. The best organisations in this space understand the importance of leadership buy-in and participation when it comes to walking the talk in terms of creating a healthy workplace. These leaders focus on articulating purpose, discussing the big picture of the overall goals and ensuring people feel their work is uniquely connected and necessary to the success of the organisation. They establish a sense of shared purpose among their people at both the individual and team levels.
Learn more about how you can evolve purpose in your organisation here.
Globally, only 52% of people feel they are encouraged to balance their work and personal life, and this dips to 49% in Ireland. In the rebalancing of priorities, flexibility has become a key trend among organisations as much as its people. Those that recognise the need to adapt in the face of a changing working environment will fare better when it comes to retaining and attracting talent.
The challenge between offering flexibility and the ability to create authentic and caring connections at work was also revealed in the study. Around the world, 25% of employees feel lonely at work – and is at 29% in Ireland. Another 36% do not feel they belong in Irish organisations, and that dips to 32% globally.
While establishing new ways of communicating with colleagues and embracing the benefits of remote working, the pandemic has put an undeniable strain on the connections people build in a work environment. Leaders need to be intentional about encouraging people to build connections, especially when they are new to a company or a role. These connections support people's health in the workplace by providing fulfilling relationships, driving new ideas and allowing for the flow of information around how to get things done within the organisation.
Here are three ways you can build a healthy hybrid work environment.
There is hope.
Experiences of well-being are much better at the World's Best Workplaces. Across the globe, 61% of Best Workplaces employees consistently experience well-being. These companies thrive as a result. When employees work in a climate of well-being, they are:
three times more likely to intend to stay with their employer

three times more likely to recommend their employer to others




These are two essential advantages for attracting and keeping great talent.
There is also hope at the national level. Certified™ organisations in Ireland are considerably more efficient than other Irish organisations at creating a well-being environment.
Compared to Irish people in other organisations, employees working at Irish Certified™ organisations are:
28% more likely to feel they are working at a psychologically and emotionally healthy place to work.

26% more likely to feel they are encouraged to balance their work-life and their personal life.

29% more likely to say their organisation is a great place to work, taking everything into account.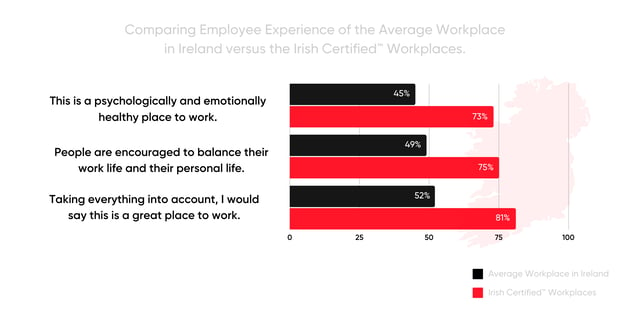 By committing to creating a great workplace where employees' well-being is acknowledged and prioritised, Certified™ organisations in Ireland are offering a better employee experience than other workplaces in Ireland. This is due to their effort in listening to their people and acting on their feedback, which is a key factor in employee retention. Every year, more and more organisations decide to invest in their workplace culture and put their people first.
Organisations that had already embraced it before the pandemic are well more equipped now than their competitors when employee wellbeing is key retention and attraction factor in this new employee-owned market.
To know more about the Great Place to Work Certification™, click here.
About Great Place to Work®
Great Place to Work® is the global authority on workplace culture. We help organizations quantify their culture and produce better business results by creating a high-trust work experience for all employees. We recognise Great Place to Work-Certified™ companies and the Best Workplaces™ in more than 60 countries.
To join the thousands of companies that have committed to building high-trust company cultures that help them attract, retain and take care of their people, contact us about getting Certified™ today.
More helpful resources on Employee Well-being: