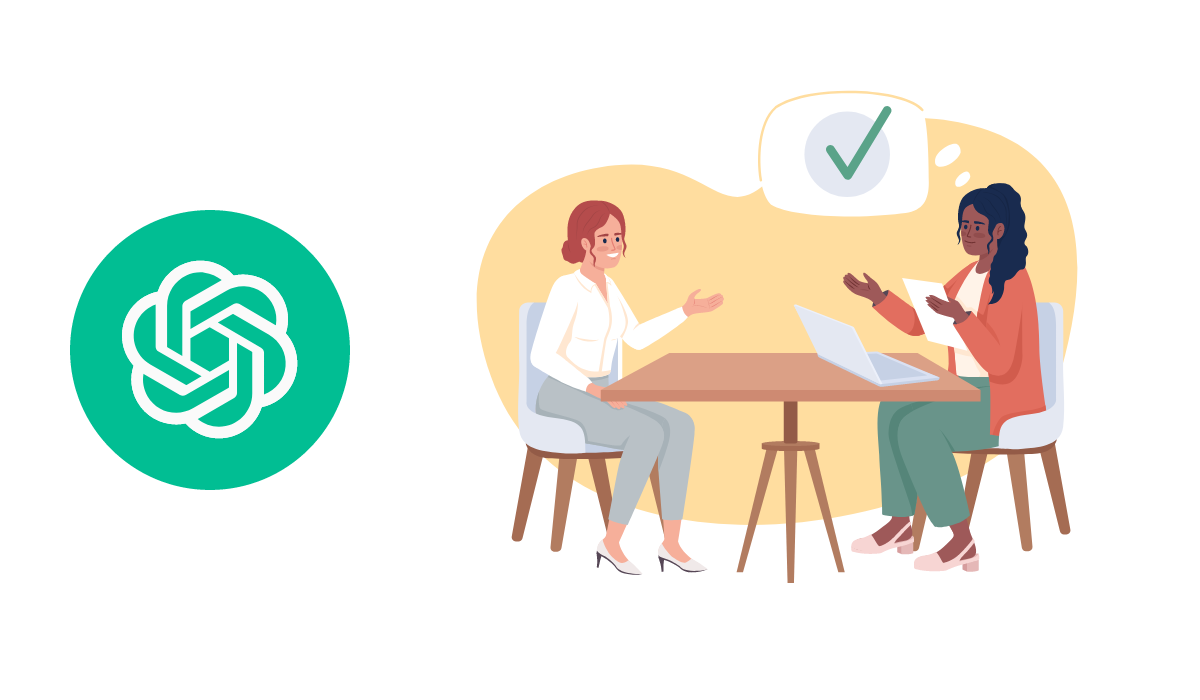 ChatGPT, an OpenAI chatbot introduced in November 2022, has garnered attention among HR specialists, who are curious about its capabilities. In less than a month after its launch, ChatGPT had reached 1 million users, and in two months it had reached 100 billion. This latest artificial intelligence technology has the potential to transform the way HR professionals carry out their tasks, such as automating repetitive tasks, helping personalisation in the recruitment phase, and enhancing the overall employee experience.
According to exclusive data from People Management, 17% of HR professionals have used the chatbot app for HR tasks, while 20% have used it for other purposes at work. Their LinkedIn poll conducted between 10-17 March, which received over 1,000 votes, revealed that a third of HR professionals (33%) have not yet used ChatGPT but are interested in incorporating AI solutions into their daily workflow. However, 30% of respondents said they have no intention of using ChatGPT for HR tasks or anything else.
Let's explore some specific use cases for ChatGPT in human resources and examine how ChatGPT can help to recruit.
How to use ChatGPT
What ChatGPT is good at
ChatGPT excels at generating written content, such as job descriptions, messages, and interview questions. It is also capable of crafting materials for employee handbooks, and policy manuals, and composing e-mails to job candidates, including offer letters. ChatGPT is knowledgeable in HR laws and regulations and can summarize research and reports. Additionally, it can streamline administrative tasks, such as reminders about events and holidays, and prepare performance reviews.
What you should know before using ChatGPT
ChatGPT is not proficient in candidate searching, filtering, or creating target company lists. It may also not be suitable for tasks involving precise numerical calculations due to its lack of expertise in mathematics.
Generative AI technologies, including ChatGPT, have been found to reinforce social stereotypes because of their training datasets.
Be cautious about sharing sensitive information with ChatGPT, such as personal, health, or payment details, as it may violate compliance regulations. ChatGPT learns from any input typed or pasted into the prompt box and stores it as part of its learning process, potentially exposing confidential information even if the original copy is deleted.
Additionally, ChatGPT and GPT3 rely on data from before 2021, which can result in inaccurate and outdated information in certain areas, such as employment contract laws or the latest tech stacks.
How to get the best results with ChatGPT
Be clear and specific: Use specific details and avoid open-ended questions. This helps ChatGPT understand what you want and provide more relevant responses.
Use natural language: Write prompts in a conversational tone, like talking to a friend. ChatGPT is trained to understand and respond to natural language, so this will help it understand your intent better.
Provide context: Give enough information about the topic or situation to help ChatGPT provide informed and detailed responses.
Ask open-ended questions: Avoid closed-ended questions and ask open-ended questions instead. This allows ChatGPT to provide more nuanced responses and keep the conversation going. Example: Do not ask "Is this job description good?", but rather "How can I improve the following job description?"
How can ChatGPT help with recruitment
Create job advertisements
Using ChatGPT, not only can you create job ads that get across specific position-related info, but you can also potentially create multiple versions for different scenarios.
Prompt Examples:
Write a job description with the following attributes:

Job title – Operations Manager
Salary Info – €55,000 with a competitive benefits package
Location – Dublin, Ireland

As a hiring manager, I require assistance in refining the role that I am looking to fill. Would you be able to act as a recruiter and ask a list of 5-10 questions to help me better understand the position? To ensure clarity, please ask one question at a time and wait for my response before asking the next question. Once you have all the necessary information, please draft a concise, impactful, and differentiated job description that I can post online. Please stay in character until the end of our interaction.
I am in need of a job description for a particular role. Can you create a generic job description, with placeholders in brackets, that I can later fill in with the relevant information?
Below is a job description for a Marketing Executive in our company. Could you please modify it to fit the job of a Talent Acquisition Manager instead?
Review and improve your job descriptions
Prompt Examples:
Can you identify the unnecessary and generic parts of this job description that do not differentiate it from other similar job postings? Please provide examples.
Could you identify any potential biases in this job description against minority or underrepresented groups?
Without rewriting the job description, can you suggest any additional information that can be included to make it more unique and reflective of the company?
If you were a job seeker interested in this role, what questions would you have about the job description? What important information is missing?
Can you detect any gender-specific language in this job description?
Could you please shorten this job description by 50% while retaining most of the essential information?
Candidate emails
Recruiting new candidates can be an arduous undertaking, particularly when it involves crafting outreach emails for numerous job positions. Fortunately, ChatGPT for HR professionals offers a solution that streamlines the process. All you need is a straightforward prompt like "Create a candidate outreach email for an Operations Manager," and you'll receive a robust content foundation for your outreach. From there, you can easily customize your communication in no time.
Prompt Examples
Can you suggest an open-ended question that shows genuine interest in the recipient, to end this outreach message and encourage replies? Please avoid generic recruitment questions.
For this outreach message, can you propose five email subjects that grab the reader's attention and engage them, without sounding like a marketing email?
Based on this person's experience, can you create a personalized and humorous opening for a recruiting message?
How can we make this recruiting outreach message more inclusive and welcoming to diverse candidates?
What particular benefits or perks of the role can we highlight to make it more attractive to candidates?
What objections or concerns might candidates have about the role or company, and how can we address them effectively in this outreach message?
Suggest an empathetic rejection email to a candidate.

The reason for the rejection is that someone else has been hired for the position. Avoid using clichéd and vague recruiting language. Also, provide some areas for positive feedback that can be personalized to the individual candidate.



Discover who made Ireland's Best Workplaces list in 2023 👇
Interview questions and recommended answers
Having trouble coming up with interview questions? Perhaps instead you are running into issues finding questions that are more specific to a particular job title. With only a few prompts, you can generate multiple questions, as well as a list of recommended answers! It's possible to develop personalised interview questions and responses without sacrificing valuable time that could be allocated to other tasks.
Prompt Example:
Suggest 5 interview questions with recommended answers for a Junior Merchandiser in remote working and having worked 1 year in the manufacturing industry
This is a portion of what ChatGPT answered: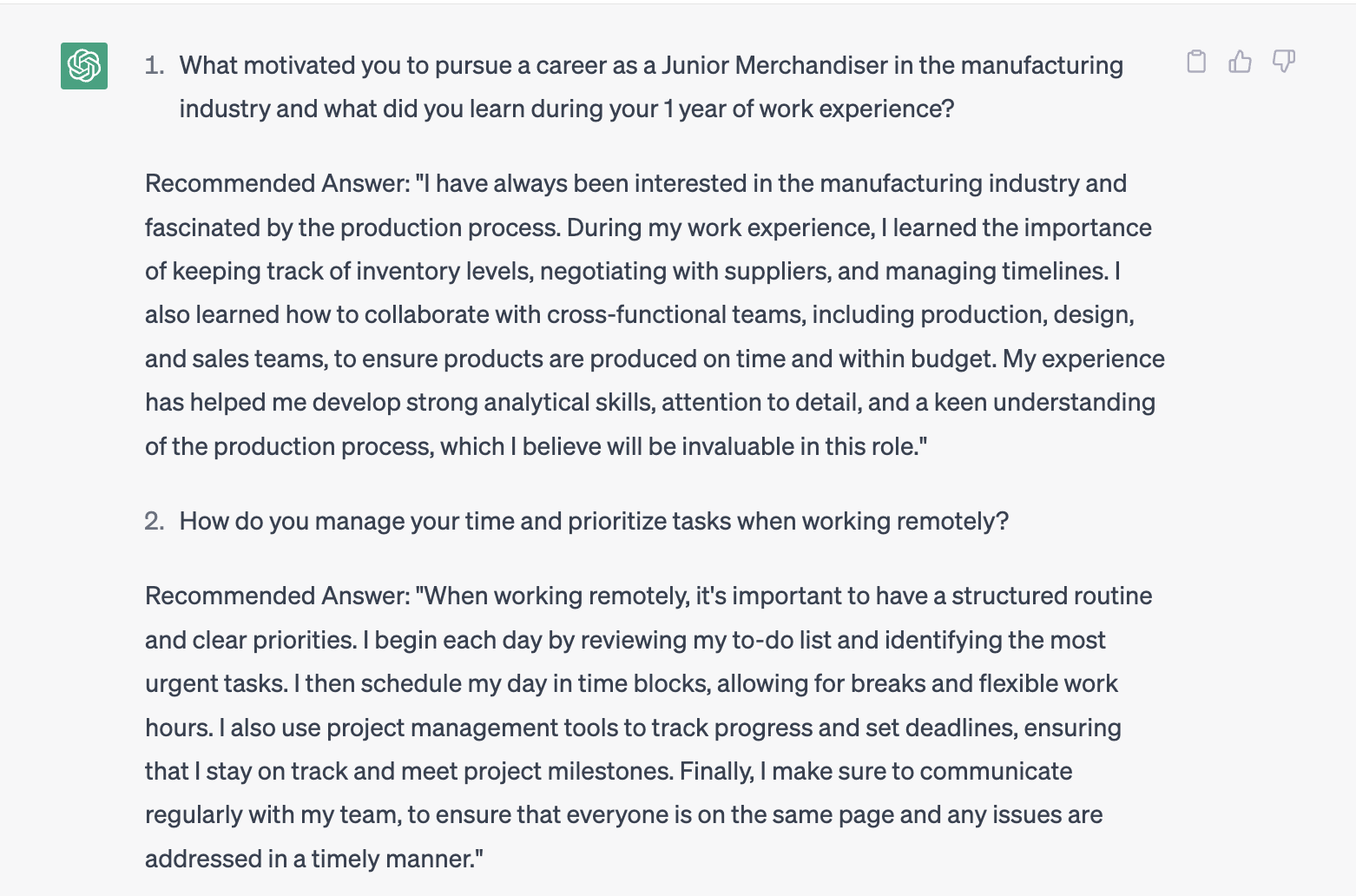 Get keywords to include in a job description
Utilizing the appropriate set of keywords when creating job descriptions is crucial. Failure to do so may cause potential candidates to overlook your job posting. ChatGPT streamlines this procedure, making it both effortless and replicable.
Prompt Example:
Can you provide me with a list of keywords to add to a job description for a Web developer?
And this is a portion of the result:
Sure! Here are some keywords you could include in a job description for a Web Developer:
HTML/CSS
JavaScript
Responsive design
jQuery
Bootstrap
React
AngularJS
Vue.js
Node.js
PHP
MySQL
API integration
Summarize resumes


When it comes to reading multiple resumes, things can become tedious. ChatGPT can help HR professionals with this problem by creating summaries of resumes to help you refer to when needed.
Creating these resume summaries can be great when you need to quickly refer to key information from a potential candidate. They can also be ideal when sharing info with an executive or manager.
Create a Chatbot to answer candidates' questions
Integrating ChatGPT into a company's career website allows potential candidates to ask questions and receive answers promptly. This can enhance their comprehension of the company's culture, job opportunities, and application process, ultimately increasing their likelihood of applying. Here are the steps to take:
Define purpose: Determine primary goal (e.g. answering questions, providing info, guiding application process)
Train ChatGPT: Train on relevant FAQs, job descriptions & requirements to enable natural language understanding.
Choose a platform: Select a chatbot platform (e.g. Dialogflow, BotStar, ManyChat) with ChatGPT integration and a user-friendly interface.
Design chatbot: Create greeting messages, quick responses, and response templates for a seamless user experience.
Test & refine: Test with a small group, and refine based on feedback by improving responses, adding new Q&A, and adjusting conversation flow.
Launch & Monitor: Deploy on the career page and track metrics (conversations, engagement, user satisfaction) to refine and improve performance over time.
The bottom line
In conclusion, ChatGPT can provide a significant advantage to HR recruitment processes. Its ability to generate resume summaries, answer candidate questions on company culture and job opportunities, and streamline job description creation can save HR professionals valuable time and effort. ChatGPT's integration with chatbot platforms enables easy deployment on career pages, allowing for 24/7 accessibility to potential candidates. With ChatGPT, HR departments can improve their recruitment strategies and focus on building meaningful relationships with candidates.
About Great Place to Work®
Great Place to Work® is the global authority on workplace culture. We help organizations quantify their culture and produce better business results by creating a high-trust work experience for all employees. We recognise Great Place to Work-Certified™ companies and the Best Workplaces™ in more than 60 countries. To join the thousands of companies that have committed to building high-trust company cultures that help them attract, retain and take care of their people, contact us about getting Certified today.