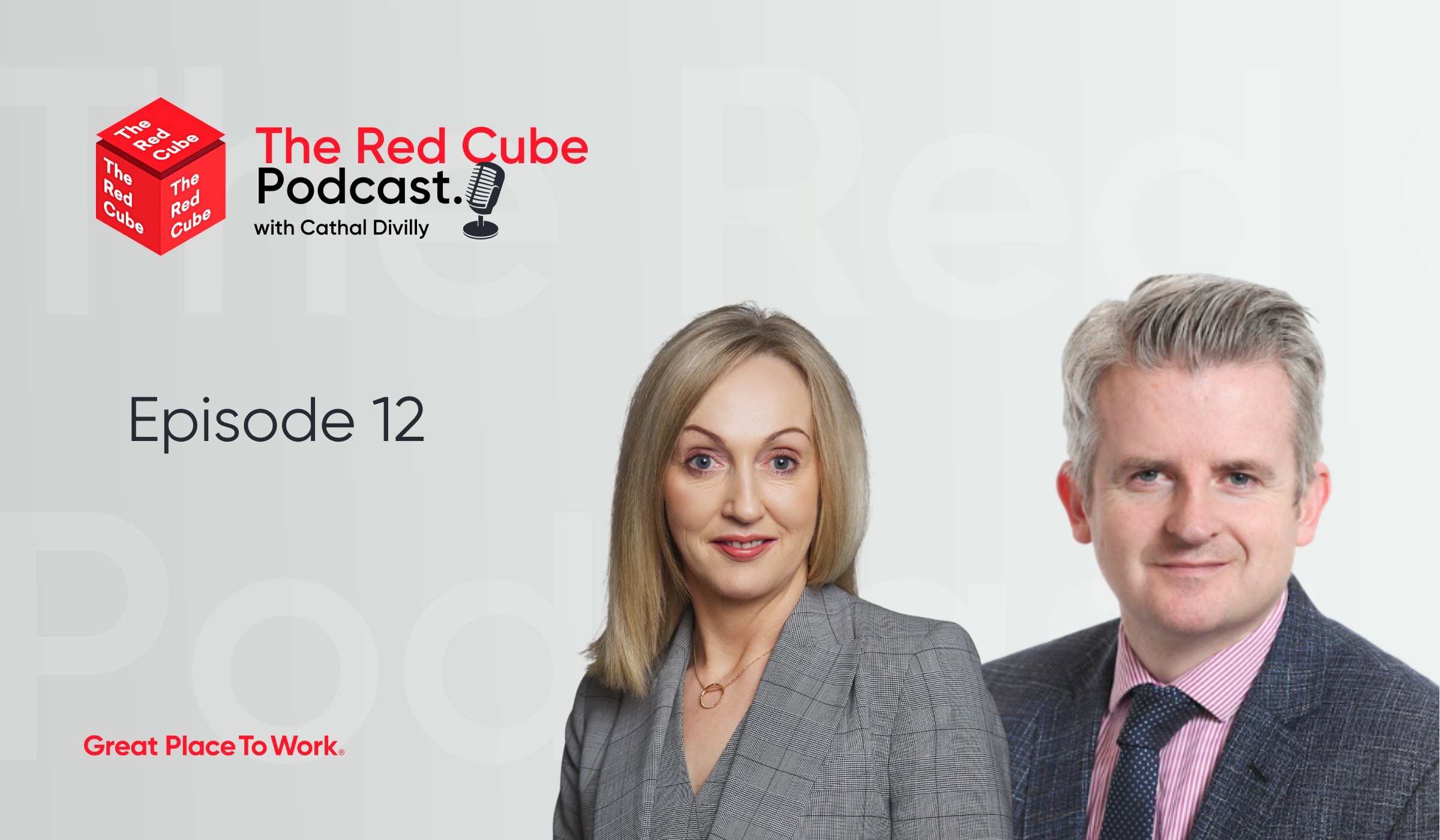 In the twelfth episode of the Red Cube Podcast, Great Place to Work CEO Cathal Divilly is joined by Kathleen Linehan, Group Strategic Director of Human Resources at Trigon Hotels. Kathleen speaks about her experience with making a big jump from the manufacturing industry into hospitality, and the lessons she has learned along the way. Building on the importance of inclusivity in the workplace, Kathleen also shares some tips for the onboarding stage right up to senior management, and how to foster a culture of belonging for all.
Listen below! 👇
Subscribe and Listen on:
> In this podcast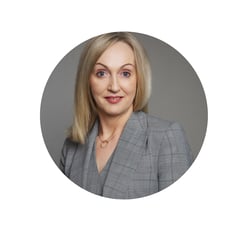 Kathleen Linehan
Group Strategic Director of Human Resources
Trigon Hotels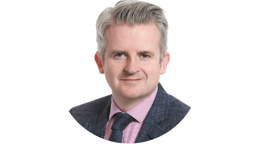 Cathal Divilly
CEO
Great Place to Work Ireland
>Transcript
Cathal Divilly: Welcome Red Cube listeners, you're all very welcome to the latest episode of our podcast, and we are delighted to welcome the Strategic Director of Human Resources from Trigon Hotels, Kathleen Linehan. Kathleen, you're very welcome.
Kathleen Linehan: Good morning Cathal, thank you very much for having me. Delighted to be here this morning.
Cathal Divilly: It's great to have you on the show, Kathleen. For our listeners, you might give people a sense of your career history to date and who Trigon Hotels are.
Kathleen Linehan: Certainly. I've been working in Human Resources for about 19 years Cathal; I originally started off in a Japanese manufacturing company. I worked there for 10 years, learned loads in terms of processes, manufacturing, HR perspective – a very structured Japanese environment, 5S and all that.
And then coming to hospitality was certainly a huge change for me. Was I out of my depth at the beginning? Absolutely I was, I had to learn all the terminology – for example, commi chefs, chafing dishes and all this.
But here I am nine years later with Trigon Hotels now and I have to say it's probably one of the best places that I've worked in my entire career. And that's simply because of the people I work with and the culture and the environment, and I suppose having that trust in me to do what I do and lead HR as a strategic driver in the company.
Cathal Divilly: And why manufacturing into hospitality Kathleen, what happened there?
Kathleen Linehan: I don't know! It was a strange jump, but you know. It was after the birth of my second child, I had decided to take a career gap, so I took a bit of a break. And I had some personal circumstances, my mom had an accident, so I decided it was just time to take a little time out to look after her and look after the new addition to the family.
So I decided during that time maybe it was a bit of a life crisis that you know, maybe it was an opportunity to try something different. I saw a role in a hospitality company and I thought, well, I'll try it. So I did and I got it. And I thought that must be karma, that must be fate. So I finished up at the manufacturing company and I have to say I loved working there.
And then went in to hospitality and for the first six months, I certainly was "Oh, my God, what have I done?" you know, I was so used to structure, but as you know, in hospitality, every day is a different day. Lots of things happen and you have to be able to juggle all those things. But I think what brought me in really was that just infectious love of people and you know, customers and team members and it was exciting as well. So nine years later still here!
Cathal Divilly: So, nine years later, Kathleen and you talked about culture there. So what sort of culture are we looking to create at Trigon Hotels?
Kathleen Linehan: Well, like I alluded to at the beginning, Cathal, I was very lucky. The very first day I met with my Managing Director, Aaron Mansworth, I immediately – you know when you get that good feeling that yeah, this is right. I could definitely get a sense from him that people were first. And he very much believed in the HR function. And he was looking for somebody, you know, my title says strategic director, it's bit of mouthful, but that's exactly what they were looking for – somebody to bring all those HR functions together and effectively drive those strategies, people strategies to lead to a successful company.
And if we want to be successful we have to do that to our people and definitely our people in Trigon are who define us and who makes us. And there's just a wonderful culture of belonging and listening. Listening is the number one key for me. And from our MD to all our general managers, head of departments, that is the culture that we create, is to listen, communicate and encourage.
You would often see companies saying they're doing this, they're doing that, but when you go in, they might not necessarily be doing it because life takes over, busy production plans or busy operations … But I can honestly say that in Trigon we certainly do have that culture. There's almost an instinct to see if somebody isn't happy or if someone isn't working properly or, you know, even taking into account what goes on outside of work – we can nearly know our people so well that we can read them. And from the very top down that is the culture that that we embed.
Cathal Divilly: That's great, Kathleen. And thinking about then how we attract talent, in those early few weeks for new talent – what do you do around onboarding of new talent? How does that look for Trigon Hotels?
Kathleen Linehan: So that's one of the key drivers for us in HR – primarily when I started it was to review our onboarding process, look at what we were doing and how we were attracting talent and taking into account different cultures and different needs in people. We're currently looking at our employer brand program, it's one thing that we're working on for trying to attract talent. And then from the very moment they come in the on boarding process, looking at that, and looking at those first 16 weeks, which is the crucial time in keeping talent really.
So we've done a lot of work around our onboarding process, for example our induction. We actually brought a girl in from our charity partners co-foundation, Ability@Work, a lovely girl called Amy. And Amy has dyslexia and she has slight intellectual disability. So she sat in on our induction and we asked for her feedback. She told us that it's too wordy. Like me, she didn't understand half the terminology that was used on the induction, and she said maybe people with different languages mightn't understand it either.
So a lightbulb moment went on for us and we thought, she's absolutely right. So we changed it.
We now use easy-read options, 5 sentences on screen, a lot of pictures, video content. We developed a hotel lingo sheet, so on that sheet we have all those things you might hear in hotels for people, explaining it to them and with different languages taken into account as well. And that's been really helpful for people, so straight away, people are at ease and they're not going into their departments wondering "what's that, what's this?"
We also have our Managing Director and our senior team come into the induction when they're around, there's always one that comes in just to say hello and welcome them to the team. We ask for an interesting fact about them, and that's a really good one because we learn about them, what they like outside of work, what their interests are. So you can straight away when you meet them again in a different property, you can identify them to either their music or their hobbies, or this and that.
So once they go into operations then we have Onboarding Ambassadors in all our properties. So we're very mindful in HR, we have a lot of paperwork for compliance and we have first-day checklists and all that. But the Onboarding Ambassadors are just people that wear these badges that identify them and they're the go-to person for the new starters and their properties. So they get a list of the new starters, straight away they make sure to meet them, they might introduce them to someone of similar background or age and in different departments, ensuring that they're going to the canteens, they're not sitting alone and straight away that feeling of belonging is so crucially important.
Cathal Divilly: Yeah, we can see how some of those practices will give that sense of belonging from the outset. What makes a good Onboarding Ambassador?
Kathleen Linehan: So our Onboarding Ambassadors are brilliant, and I'm not being biased in saying that. They value the jobs and they value the people coming in … and they know from the outset that it's important to make them feel welcome because we want people to stay and we want people to be happy. And they take their jobs very, very seriously and they do ensure that they've all those ticks in that list.
We actually have a great internal engagement tool called WorkVivo, I don't know if you've heard of it – it's like Facebook, but not Facebook, it's an internal app. So our new people are welcomed every Wednesday on WorkVivo, so straight away you've people from all the different properties welcoming them and our Onboarding Ambassadors are part of that as well.
The ambassadors also celebrate the new starters achievements – so they have training badges when they start and once those badges are taken off, they put up pictures of them congratulating them on completing the training and everybody interacts. So it's celebrating their achievements as well early on, when they start with us.
Cathal Divilly: Thanks, Kathleen. And thinking about then career and development opportunities for new talent and longer-term talent. How does that look like in Trigon?
Kathleen Linehan: We run a lot of internal courses ourselves. So for example the HR team do disciplinary workshops, recruitment workshops, we have emotional intelligence workshops … we're looking at starting cultural intelligence workshops. So they're all run internally. We also have our trainee management development program, so that's a 12 month program that is City & Guilds accredited for anyone looking to progress up into a managerial level.
Recently we launched our new ASPIRE program and that's a very interesting program Cathal, because that actually took us a year to develop. We were very mindful that it wasn't just us in HR developing it, we wanted our teams to be involved. So we actually ran a lot of focus group meetings across all our properties with team members from different demographics, different departments and asked them what is it they'd like to learn in their progression.
So we put together the program and it has three levels; we've got our navigate program, so that's all people that want to navigate their career into maybe supervisors and that. And then we have our emerging leader program, so there maybe our supervisors and managers that want to emerge up to the next level. And then we have our complete leader program, and that's for our executive team and our leadership team, but also for those coming up as well because, just because we are on the executive team doesn't mean that we're short of learning.
So we all have to learn and we have to encourage everyone else to join the program as well, so I'm very excited. It covers a huge, diverse range of topics, resilience to well-being and and all that so very excited about it.
Cathal Divilly: Great, Kathleen. And you talked about employer branding at the start and that's actually going to form a big part of your employer brand being able to say to the market, "well, we have a number of developmental programs, ASPIRE is one of them". Talent will see that and say, OK, that's somewhere where I can go to build my career.
Kathleen Linehan: Absolutely, and we've seen a big shift in age demographics coming into the workplace. It's something we do quite a lot because I love analytics – your data will definitely determine what what what you do for the future. So for example, four years ago when I started, we definitely had a higher range of maybe millennials in the workplace, with some baby boomers and that generation. But four years on now we've seen our top hire demographics would be generally Gen Y, Gen Z and that. Which means that we've had to adopt everything you know, new people coming into the workforce now want to progress fast, they value quick communication, so having all those things in place, we know we'll attract and retain talent.
Cathal Divilly: And you have to freshen up your practices all the time to suit your demographics, because they're shifting all the time, aren't they Kathleen?
Kathleen Linehan: Absolutely yeah, they are shifting and I suppose having them, like I said earlier, involved in what we're doing, that was important to us, and to get an understanding of what they're looking for as well. And people will get involved and buy into those things a lot more when when they've been involved in them.
Cathal Divilly: Isn't there really good development within the industry in general? Like if you look at the senior people within most hotels, often they've started on the first tier and progressed.
Kathleen Linehan: Oh absolutely. I would say that definitely about 85 per cent of our senior team have been working in hospitality all their lives and have developed up through the ranks. And that's very valuable because you know, even for me, coming in from a manufacturing industry to hospitality, I was able to gain their knowledge and their expertise and it's very important. Definitely within Trigon that expertise has been passed down.
One thing we introduced in our trainee management development program last year was our mentorship program. So senior people in the company that have made their way up are mentors for the students in different aspects. And we've had fantastic feedback from the students, that actually they've said it's the part they love the most because not only do you get that valuable knowledge but it also breaks barriers.
Sometimes people might be a little bit nervous of going to the Managing Director or myself or someone in the senior team. But to be able to spend 40 minutes or an hour in a setting where you're just chatting about experiences and careers, it's certainly helped. Even personally I've had emails from them, telephone calls, meetings outside of that mentorship and that they can just feel comfortable in chatting. But certainly hospitality, I must say, it amazes me the amount of people that have progressed through the ranks coming in as maybe F&B Assistants going on to be general managers.
Cathal Divilly: And we have to collectively, I think, make sure we shine a light on those positives within the industry that are there and you can see how even the mentorship practice there, how that would build belonging as well for an individual. One of the things we've seen, Kathleen in some organisations over the last couple of years is reverse mentoring, where the younger generation will mentor the older generation around, if you like social media and how they take in information and communication as well. So that's been interesting, we've seen that happen out there.
Looking at CSR Kathleen, I know Trigon do great work in CSR. Give us a sense of what you do and how you believe that CSR work impacts on your culture?
Kathleen Linehan: It's very, very important to to us, Cathal. Four years ago when I started, we built up relationships with Ability@Work, a wonderful organisation in Cork. They help people with different accessible issues gain employment in the workplace. So that's where we kind of started and four years later, we have six members of Ability@Work working in Trigon Hotels. And they were fantastically supportive to us in terms of job approaches coming in and supporting that person when they came to the workplace.
But it was also a huge learning for us. We understand now more than ever that one size does not fit all. And you know, while we do have to have our training plans and our SOP's, it's also important to acknowledge the individual and maybe people learn in different ways. We've incorporated that into our work practices now. We've actually hired internally two trainer roles in the properties so they are now responsible for the new people when they come in.
So while we do the training plans and SOP's, we also do video content, we do easy read format, we're now developing QR codes. So if you're showing how to change a keg for the bar for instance, which you might have forgotten, you can now scan a QR code and that video will come up and show you how to do it – so by looking rather than reading. We've just found that brilliant, you can scan your code, you can see it being done and you do it because, as you alluded to earlier, all these younger generations are phenomenal on social media and YouTubing and and all that.
So having that collaboration with Ability@Work has broadened our mindset on the way we do things and adapting. We developed a wonderful relationship with them last year – we worked together on a sensory garden. So we saw a plot of ground, we spent one year working with them and developed that garden. All our team members went up every Tuesday, our Managing Director Aaron was very, very involved in this, our general managers, HR teams, everyone across the the properties. And our chefs actually use it quite a lot as well.
So the produce that's growing there, they use down in our kitchens. We have a new Group Executive Head Chef hired this year, so he's going to develop that further with them and hope to use that produce more in our kitchens as well which leads on to sustainability, something that we're very mindful of as well and have several sustainability working groups across all the properties. And we've definitely found that that's really helped our engagement and retention of team members because they are values that are important to them, and that's what a lot of prospective candidates might look for in a workplace, something that aligns with their own values so the work we've been doing around CSR, sustainability, environment, we've found it very positive in attracting and retaining talent.
Cathal Divilly: As a barman in my earlier days I would have really benefited from that QR code, I really struggled with changing kegs! Thinking about the hospitality industry and the employer brand, how we attract more talent. What would you like to see more of in terms of the industry and what it focuses on?
Kathleen Linehan: Having come from, like I said earlier, a manufacturing environment into hospitality, sometimes I see that hospitality gets very negative press coverage and that. But I can honestly genuinely say that with Trigon, that is actually not the case. And I've seen it across hospitality, having been involved in a number of platforms. Rates of pay are very competitive now. They're a lot more mindful of well-being and learning and development opportunities. There's a genuine sense of caring for its people and putting people first.
So I'd love to see us probably talk more about what we do because maybe that's something that we do shy away from. And maybe we're a little bit afraid of talking. That's something that I would definitely encourage people to do through their employer brand programs and not be afraid and and talk about the positives because there are a huge amount of positives working in hospitality.
The perks alone, having your meals for free, you've discounts to food outlets across the properties … They're out there but we just don't talk about it as much. We've actually launched a policy recently, a fertility-fertility friendly policy, which I think is a very forward step in any industry. We've acknowledged that people are going through fertility difficulties and we now have introduced 5 paid days for anyone going through fertility treatment, with supports there as well for their partners. I think that's very forward-leading and there's a lot hospitality does around all those that, like I said, we just don't shout about as much.
Cathal Divilly: I mean, that's such a progressive practice. And even the short time you've been with us today, Kathleen you've given us a sense of great practices out there that's supporting people in terms of that belonging. And I know myself from meeting yourself and the leadership team, the time and attention you take to understand and listen to your people. It's a great credit to Trigon Hotels.
Kathleen Linehan: Thank you. Absolutely, and we do analyse to death sometimes ourselves, but you I think that for us, take for example our surveys, we run them twice a year and we take them extremely seriously, and from our surveys create fantastic action plans and go back and make real change. And I think that's contributed to one of our successes, is just showing our people that we listen and we we take action and we hear you.
Cathal Divilly: Moving into sort of chill out mode, Kathleen, so have you a favourite show, you know there's about 35 streaming platforms now, Netflix and Disney and all of that. What's your favourite show?
Kathleen Linehan: At the moment my favourite show, Cathal, and it doesn't sound very good coming from a HR Director would be without a doubt Peaky Blinders and I love Narcos, it's actually another favourite of mine again. Doesn't reflect very good on me ! Peaky Blinders has to be my number one. I think Cillian Murphy is outstanding, I'm addicted to it.
Cathal Divilly: So good Kathleen, I agree on both those counts. Peaky Blinders and Narcos, and then you've Narcos Mexico as well, yeah.
Kathleen Linehan: I know, I've actually seen it!
Cathal Divilly: Totally agree with you on that. Kathleen, Trigon Hotels, congrats on being Certified as a Great Place to Work. You've given us a real sense as to practices and the efforts you make at Trigon Hotels to create that great culture for your people. Thank you very much for joining us today.
Kathleen Linehan: Thank you Cathal, my pleasure.