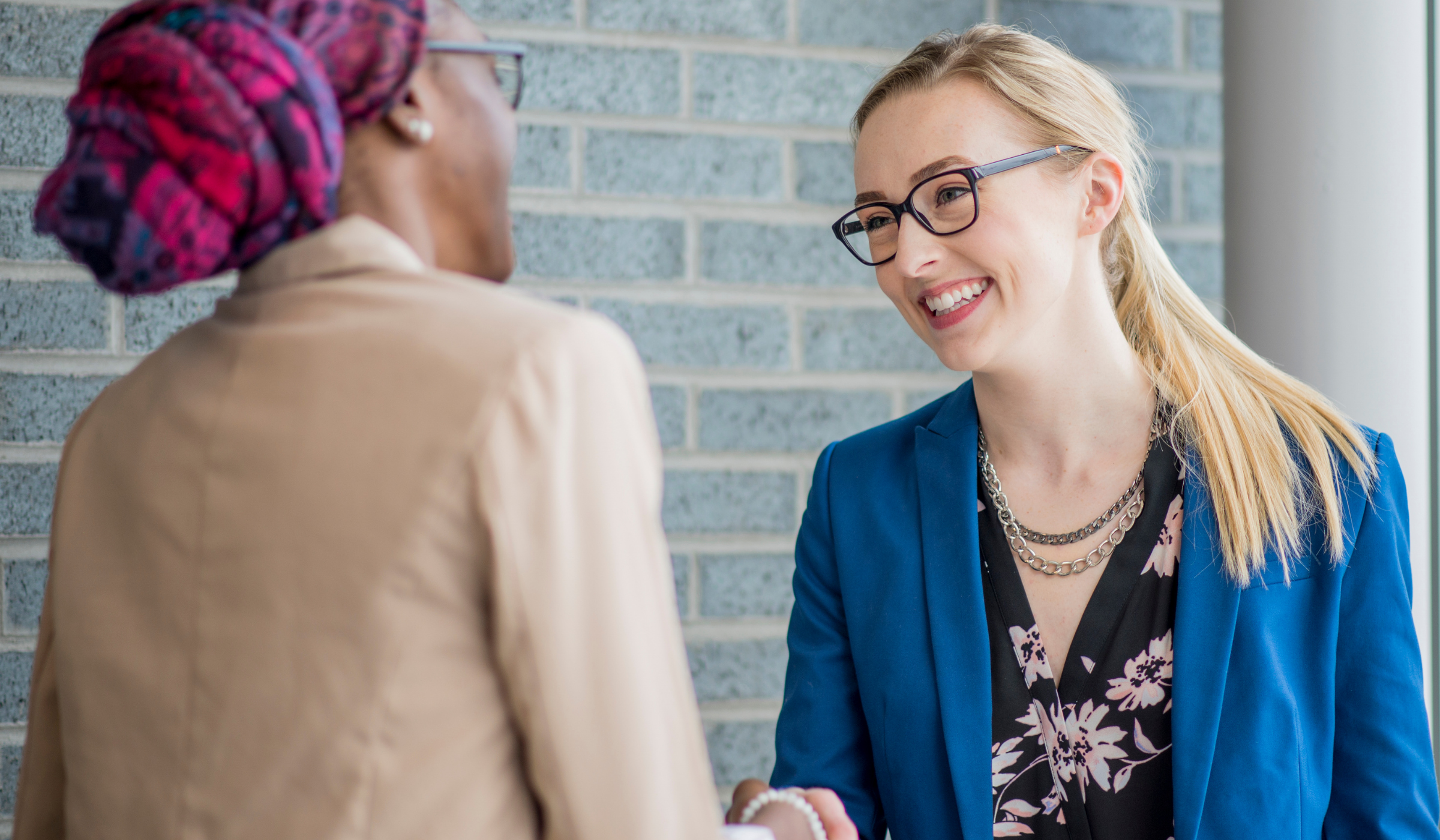 It is estimated that hiring a new employee represents an average cost per business above €11,000. Thus, considering all this amount of energy and time invested, why not make an equal effort in maximizing your return on investment by focusing on the onboarding experience in the first place? We are all very excited on our first day in a company, so let's keep that energy up!
The onboarding experience is much more than a visit to your offices, a cool coffee mug, branded pen or a company presentation. It acts as a conduit for success, reduces failure rate, and increases employee engagement and retention. Think of it as the very first step for a talent to succeed. It is close to a guidance or coaching session where the employee acquires valuable organisational knowledge to help bring the latter up to speed for short and long-term success. By doing so, the employee will gain valuable insights and be able to contribute faster and better to achieve their professional goals.
Great Place to Work-Certified™ companies DentalTech Group and Midlands Park Hotel have agreed to share some of their best practices to help new talent succeed. Here are 5 ways to help your employee succeed from day one:
1. Make them feel welcomed
Make it clear to them that they are expected on the first day. It is always appreciated when your arrival is planned, as this reduces uncertainty for new employees and takes away first-day anxiety and discomfort. Prepare the agenda for the week and the supplies they will need such as desk, computer and supplies before the employee arrives. Give them a taste of what it's like to be a member of your company's team. Organise a lunch and welcome package together to make them feel valued and appreciated.
To welcome new joiners to their company and promote new job opportunities, CluneTech publishes every Wednesday a post on their social media channels called #WelcomeWednesday.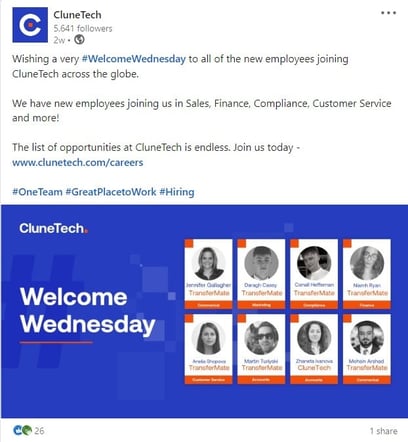 Midlands Park Hotel are very lucky to have its people work alongside them in the hotel. They believe that it is vital that new joiners get it right from the very first step. Induction takes place within the first month. Goodie bags and "Getting to know you" icebreakers are part of the day. Midlands Park Hotel also displays welcome messages on the Hotel's platforms - team notice boards, and social channels so that people know the new faces and names.
2. Have a structured process
Onboarding helps new employees acclimate and adapt more quickly to the company's working habits and processes. Yet most companies neglect these steps, leaving new employees on their own with no further guidance. Make sure you invest time and resources in a well-planned onboarding experience that extends at least through the probationary period. This includes monthly refresher meetings, training, and agreements on key steps to ensure your employee feels supported and guided throughout the process. This will make the probationary period easier and more manageable.
At Midlands Park Hotel, a couple of days before the new hires' starting date, their managers bring them to the hotel to show them around and introduce them to all the key stakeholders.
"It is so important that the simple things like where to have lunch, where to freshen up, who speaks the same language and where to get your coffee from being shown to you before you start. This reduces anxiety and enables quicker team integration."
At DentalTech Group, they anticipate up to 3 months for new hires to settle into the company and another 3 months to feel like they really own their role. By giving new employees the support and tools to succeed, new hires' confidence is built from very early on and when employees feel confident they can achieve anything.
3. Assign a mentor
It is essential that new talent feel connected to the company's mission and values. They need to understand the company culture and what makes working for that company unique and special. This will help your new hire identify with their colleagues and the overall goals of the company. Add a little story to tell the chronology of your company along with its values to create bonds and a sense of belonging by asking one of your managers to tell the story. The quickest and most efficient way to provide this experience is to assign them a mentor or a work colleague to help them adapt to the company culture and navigate the norms, language, and unconscious communication in the workplace. This provides a safe space to ask questions and gain valuable information.
DentalTech Group and Midlands Park Hotel believe in the effectiveness of assigning a buddy to their new employee. A mentor can support them and build confidence early on in the onboarding process. At DentalTech Group, new hires always have a buddy assigned to them so they always have support until they want to break away and try things for themselves. But even after the early stages when they still have questions or want to double-check something they still have that buddy for support.
4. Creating a safe space to learn and adapt
At DentalTech Group, the company is ensuring that great support is in place for new hires is set up from the get-go to help them understand what the company does and how they add benefits. With that in mind, during the initial phase of their employment, there is no pressure to "do" anything, the company just create space for them to learn the role and learn.
In the initial onboarding phase, they are shadowing someone else who does their role or similar tasks to what they will need to do so there are little or no expectations on them for performance from day 1, less pressure to "do" and creating space for them to learn. The new hire is only asked to concentrate on understanding just 3 things during each stage of the shadowing period and along with this, they are given the process or step by step for these 3 things so they have the tools to succeed. With limited to just 3 things, they are not trying to learn "everything" within the first few weeks which potentially can lead to overwhelm. When they feel confident with the first 3 things, they can add another 3 and so on.
This continues for a period of time that is agreed upon with the new employee and is dependent on the role, usually by the end of the first week they are already succeeding at more than a few tasks because there were no expectations placed on them, they are super confident after a few days because they have already started outperforming on expectations. This builds trust and confidence from day one. When they feel confident with the first three tasks they can add from there and again this is role dependent and managed through check-ins and meetings with their manager at regular intervals and as often as they need within the first few months.
At Midlands Park Hotel, they have a team leader who is further support to make sure that they are ok and any worries they have are spoken about. Many things that seem small can overwhelm many in those first vital couple of weeks, their aim is to have a safe space to speak so that strong interpersonal relationships are built.
5. Emphasize building their career
Employees want to feel that they can succeed in a company. To achieve this, managers need to talk about the individual development plan with the new employee early in the hiring process. They should identify the new employee's strengths and potential skill gaps as well as development opportunities and needs very early on, set clear goals, and provide feedback so they know where to focus their energy. In this way, trust is built between employees and their supervisors, who support them along the way.
In addition to creating an individual development plan, you should provide clear instructions on where the employee should focus their energy. This will prevent misunderstandings and keep your new employee motivated. After training, set an action plan with monthly goals that will be reviewed regularly so that the new employee receives regular feedback and can adapt more quickly.
Remember, onboarding is a long-term process. Onboarding a new company is like moving to a new country: it takes time to adjust and settle in. Give new talent the time to establish themselves in their new position and adapt to your culture.
About Great Place to Work®
Great Place to Work® is the global authority on workplace culture. We help organizations quantify their culture and produce better business results by creating a high-trust work experience for all employees. We recognise Great Place to Work-Certified™ companies and the Best Workplaces™ in more than 60 countries.
To join the thousands of companies that have committed to building high-trust company cultures that help them attract, retain and take care of their people, contact us about getting Certified today.
Do you want to foster your employees' engagement but don't know where to start? Listen to them first! Join the Great Place to Work Programme and survey your employees to collect their feedback and act on it.
The cherry on the cake? 🍒 Earn recognition and attract more talent while retaining your workforce.
More helpful resources on helping new employees succeed: