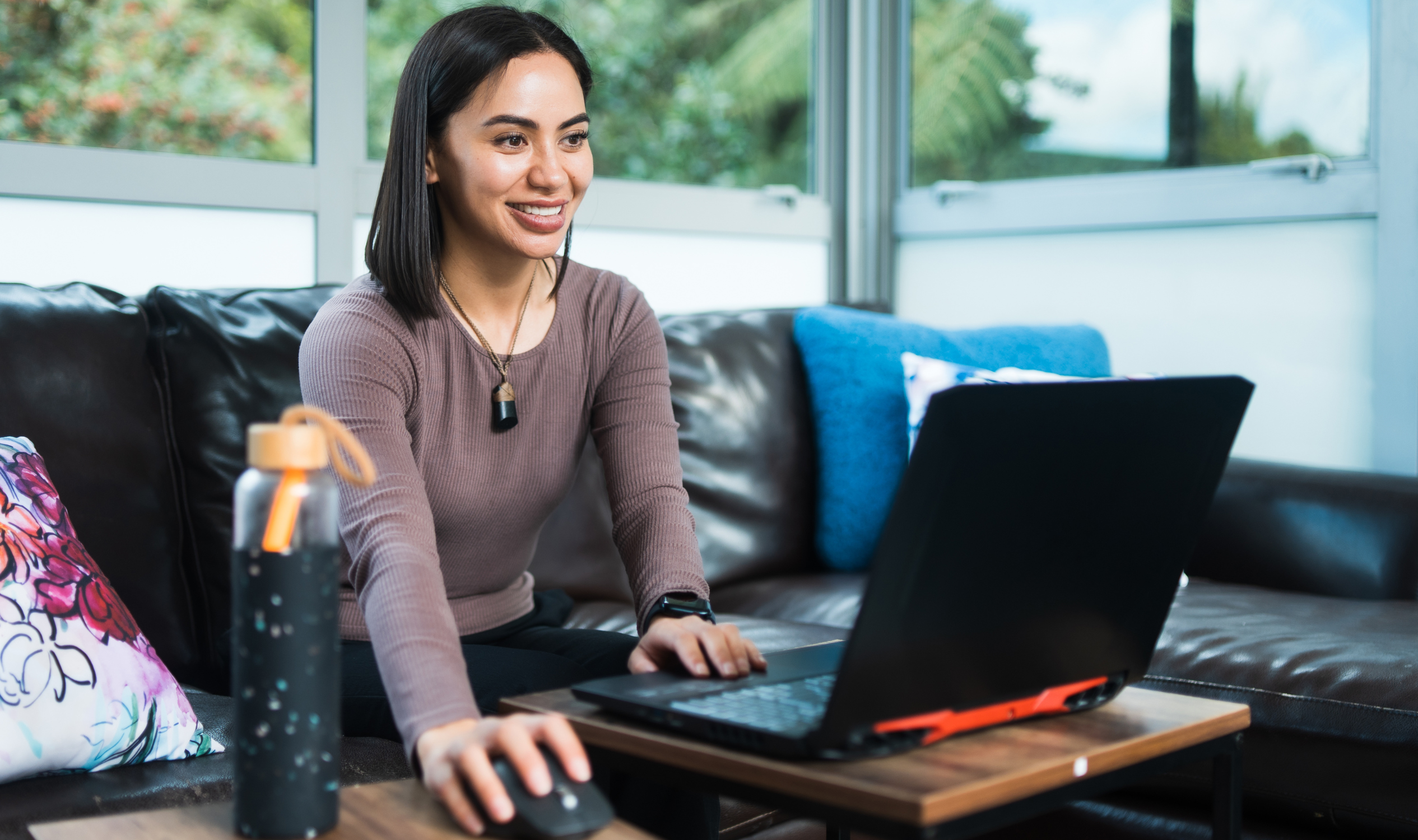 Hybrid working models have become a sought-after solution for businesses seeking to balance remote work advantages with in-person collaboration. With 70% of Irish employees desiring a mix of remote and on-site working (1), what factors make for successful hybrid work models? Through interviews with top-performing companies, we've identified commonalities for creating a thriving hybrid workplace.
Hybrid Working Models: it's all about the mindset
As John Riordan very well explained in our latest podcast about Culture of Resilience through Remote Work, establishing a hybrid working model is much more than knowing where and when your employees connect their work laptops:
"Whether it's remote or hybrid, we have to focus on an element of flexibility that enables people to get the best work done. [...] We need to talk about where you need to go to do great work and is it a place?".
John Riordan highlights the importance of flexibility in the modern workplace that qualifies successful hybrid working models today. Rather than focusing solely on physical workspaces, organisations need to consider how they can provide their employees with the flexibility to work where they can be most productive. The key is to create an environment that allows employees to do their best work, wherever that may be. The future of work is not about the physical location, but rather about providing employees with the tools and resources they need to succeed, regardless of where they are.
So, what exactly does flexibility mean to businesses? What are employees looking for in a modern workplace? And why are some companies still hesitant to embrace this shift?
Here are six key factors that successful hybrid working models have in common, based on the experiences of great workplaces.
1. They Trust their employees
In successful hybrid work models, employees feel trusted and empowered to work independently, make decisions, and manage their workload. This sense of autonomy helps employees feel more motivated and engaged in their work.
"What I would see over the past three years is a very slow and steady decline in what I would call the command and control culture. And a nice steady uptick on inherent trust," states John Riordan, in our latest podcast about the Culture of Resilience through Remote Work."
This means that businesses that have effectively adopted hybrid workplaces are more open now to embracing a more modern people-focused leadership style that prioritises trust in employees to deliver results from any location.
Moreover, Rachael O'Shea, Head of Employee Experience CluneTech, emphasizes on the importance of businesses trusting their employees to get the job done regardless of their location, fostering a positive culture of empowerment and accountability.
"[…] They need to be prepared to adjust not only the way they think, but probably the level of trust they have in their people, but equally, trust them to get the job done. […] They're all adults! They're all highly trained, highly experienced, and highly talented people who are more than capable of getting the job done, but we as an employer need to trust them to do that and it says so much about your culture".
Finally, in The Red Cube Podcast, Laura Doyle from Ireland's Best Workplaces 2023 in the Medium category, Distilled highlights the importance of employee autonomy and empowerment in a successful hybrid work model. By allowing employees to make their own decisions about where they work, businesses can create a productive and engaged workforce.
"I suppose hybrid would describe the way we're working. […] They don't need approval from their manager for either option. So everyone just makes up their own mind and if you want to go in, the office is there, if you want to work from home, work from home."
2.

They train their staff and set clear expectations
With substantial uncertainty in the last two years, it is crucial that employers provide clarity when establishing new ways of working to protect productivity and employee engagement but also the well-being of its employees overall. This not only requires having a clear communication strategy that helps ensure everyone is aligned but also channels that ensure all team members are informed and included.
On the one hand, the Guidewire team has developed a series of whitepapers and best practices around hybrid project delivery, covering everything from project management and communication tools, to how best to engage remote and on-site team members in meetings and workshops.
They also created and communicated their six re-boarding strategies regarding the new communication habits and behaviours of employees and managers in adopting the new working environment.
In a hybrid work model, it is important to ensure that everyone feels included and part of the team. This can be achieved by scheduling regular team meetings, both in-person and virtually, to update everyone on company developments and ensure that all team members are on the same page. When on-site work is scheduled, it's important to make sure that remote employees are also invited to join and participate in any team meetings, events, or social gatherings.
Hybrid working models require employers to be intentional in maintaining connections and ensuring everyone feels part of the team, regardless of their location. Making sure to bridge the gap between remote and on-site employees ultimately creates a more cohesive and productive work environment.
Global Shares developed its own training on leading virtual and hybrid teams. This training encourages leaders to increase the frequency and quality of one-on-ones, work on developing strong trust within teams, set clear goals, ensure dynamic live social connections, and ensure that clarity of purpose is a top priority.
3. They see employees as co-creators of the workplace
Trusting your employees in empowering them to participate in your company's hybrid work model, will not only increase your employee engagement but also enable the working model to be specially tailored for your workforce.
Guidewire has understood this attitude and allowed their employees across all levels and seniority (new hires, junior and senior team members) to participate in a team consultation process in cascading communications sessions. This raised questions such as learning and mentoring in a hybrid setting, and social connections and helped them to develop key principles as the ones we should apply in activating hybrid work.

4. They value their employees' well-being both remotely and on-site
Successful hybrid work models ensure their employees' well-being both remotely and on-site.
Guidewire offers every employee a one-time allowance of $500 USD (or local equivalent) to support a more effective work-from-home environment. From ergonomic chairs, wireless keyboard, mouse, surge protectors, ring lights, and adjustable laptop stands, it can be used for anything that is necessary to make working from home more effective or comfortable. Moreover, Guidewire rolled out a simplified global hybrid work connectivity allowance to support hybrid work through support for ongoing home internet and mobile-related costs.
Successful hybrid work models also prioritise employees' well-being to prevent burnout, stress, and isolation associated with long commutes and inflexible working hours. In fact, 70% of employees in 2022 reported that remote and hybrid work practices help them achieve a better work-life balance. (2). A hybrid work setting can offer employees more flexibility with their schedules, giving them more time to engage in physical activity and prioritise their health and well-being. Thus, Successful hybrid working models allow employees to have more control over their work schedules and environment.
With this in mind, Distilled's "Wellness Wednesday" initiative is a great way to promote employee well-being, bringing back life at the office and building positive relationships among colleagues in informal settings. By organising wellness activities and encouraging healthy habits, employees are provided with the support and resources they need to prioritise their physical and mental health on-site. Additionally, by fostering connections among colleagues in informal settings, employees can feel more connected to their team.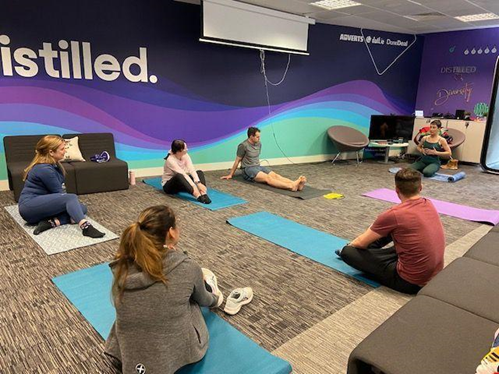 Distilled the 'Wellness Wednesday' initiative in our offices in Dublin and Wexford (Source: LinkedIn)
By creating a physical workspace that is supportive of employees' needs, companies can help reduce the risk of burnout and stress associated with long commutes and inflexible work arrangements. Therefore, adapting the office to accommodate the changing needs of hybrid work can play a vital role in supporting employees' physical and mental health, boosting their morale and productivity in the workplace.
CluneTech HQ revamping their office space shows a commitment to creating a collaborative and functional workspace. With open-plan flooring, comfortable seating options, and state-of-the-art presentation technology, the space is designed to support productivity and creativity. By utilising the resources available, companies can create a workspace that meets the needs of both remote and on-site employees in a hybrid work model.
"So our space there was previously rows and rows of desks, whereas now it is a space for collaboration and it's probably a step in a much more tech direction. And but we've got, you know, open plan flooring, we've got couches, we've got comfy seats where if you want to curl up and kind of get comfy with your laptop, or if you want a meeting room you can do that as well."
Register for our latest webinar 👇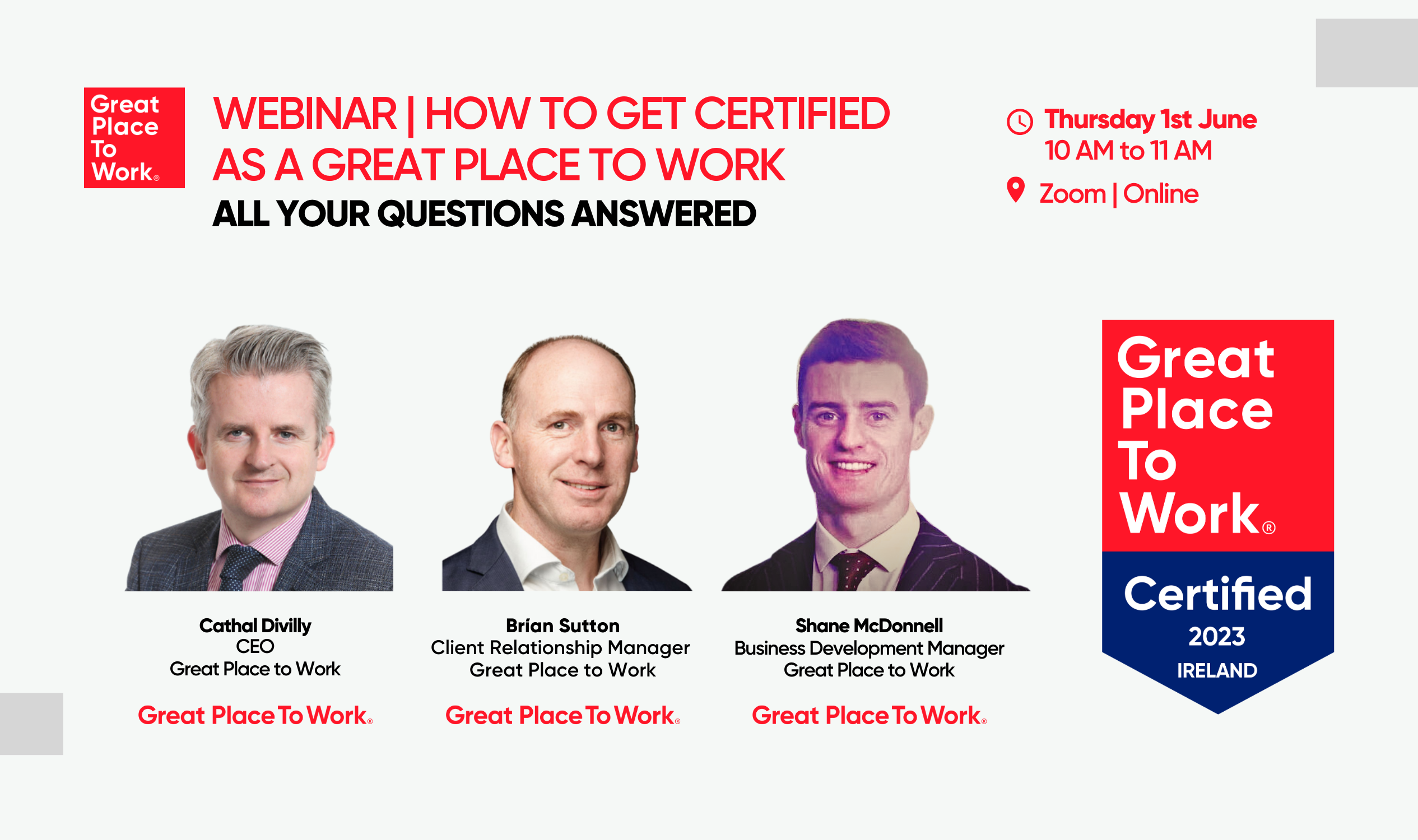 5. They promote inclusive tech for all
In a fully digital era, the quality and accessibility of technology for employees are crucial for work effectiveness. Aspects such as high-speed internet, laptops, monitors, collaboration tools, and video conferencing software help the teams be connected and productive.
To address this challenge, Scurri enlisted the help of external experts to provide Zoom training to all employees, recognising the platform's crucial role in facilitating effective hybrid work. To ensure inclusivity for remote workers, the company strives to make all initiatives, events, and conferences accessible to everyone. For example, Scurri recently organised a "Desk Yoga" session, which allowed colleagues in different locations, including Wexford, England, and Poland, to participate in meditation simultaneously via Zoom.
6. They create meaningful connections
Successful hybrid working models are able to promote collaboration effectively enabling teams to connect with others regardless of whether they are working remotely or in-person.
Opportunities such as virtual coffee breaks, team-building activities, online chat channels, and team getaways help employees build relationships with their co-workers and feel more connected to the company culture.
Another practice could be to ensure that when employees come to the office, their team members are also there to facilitate collaboration and communication. Overall, finding the right balance between remote and on-site work and maintaining connections with both types of employees can help create a successful hybrid work model.
In the Red Cube Podcast, Laura Doyle from Ireland's Best Workplaces 2023 in the Medium category, Distilled talks about their way to connect: "We do have days we do a monthly breakfast in each office and we do encourage employees to go into the office on that day, not to work, but to connect with their colleagues and to connect with each other."
"When we started doing that, I was hearing feedback like "when I go into the office, I get nothing done because I'm just chatting all day and then I go home and I've all this work to do". So what we said to employees is look, if you're going into the office on that day, deprioritise your work and prioritise making connections. If you spend the day talking to different colleagues about different things, that's absolutely fine, because they're the kind of water cooler moments, you know, that we're missing."
By prioritising building connections and relationships with colleagues during office days companies can promote collaboration and positive work culture, fostering a sense of belonging among employees.
Let's not forget new hires! Hybrid working models can be especially challenging for new talent making connections with not only their teams for the company overall.
Global Shares created an onboarding journey that spans the first three months of employment and strives to deliver a comprehensive learning experience.
The company sends a compostable gift box with everything the talent needs to start work, including some sweet treats to their home address while working remotely.
Each new employee is assigned a Buddy within their team who is there to help them adapt to their new role. This is a supportive, social partnership, helping new starters receive the encouragement they need to settle in and meet the challenges which arise in a hybrid working model. They are assigned not just for training but also to help with social integration and to give people the assurance that it's ok to be their authentic selves.
About Great Place to Work®
Great Place to Work® is the global authority on workplace culture. We help organizations quantify their culture and produce better business results by creating a high-trust work experience for all employees. We recognise Great Place to Work-Certified™ companies and the Best Workplaces™ in more than 60 countries.
To join the thousands of companies that have committed to building high-trust company cultures that help them attract, retain and take care of their people, contact us about getting Certified today.
More helpful resources on building Successful Hybrid Working Models
How to Hire: Culture Fit vs Inclusive Culture?
How to Be a Better Manager in 6 Steps
20 Ideas for Cultivating Diversity and Inclusion at Your Company
10 Figures to Convince a Leadership Team of the Importance of Culture
Employee Appreciation Day: 7 Great Ideas to Give Back!
Managers: Are You Building a Culture of Trust?
9 Tips on Improving Employee Experience by Building a Healthy Culture
Mental Health Supports in the Workplace: A Mutually Beneficial Approach
9 Ways to Show Employees You Value Them
Resources
(1) The Irish Examiner. Almost 70% of employees want hybrid work model https://www.irishexaminer.com/business/economy/arid-40365929.html
(2) (2022) Majority of Employees prefer remote or hybrid work. https://www.wtwco.com/en-US/Insights/2022/04/majority-of-employees-prefer-remote-or-hybrid-work-despite-feeling-disconnected