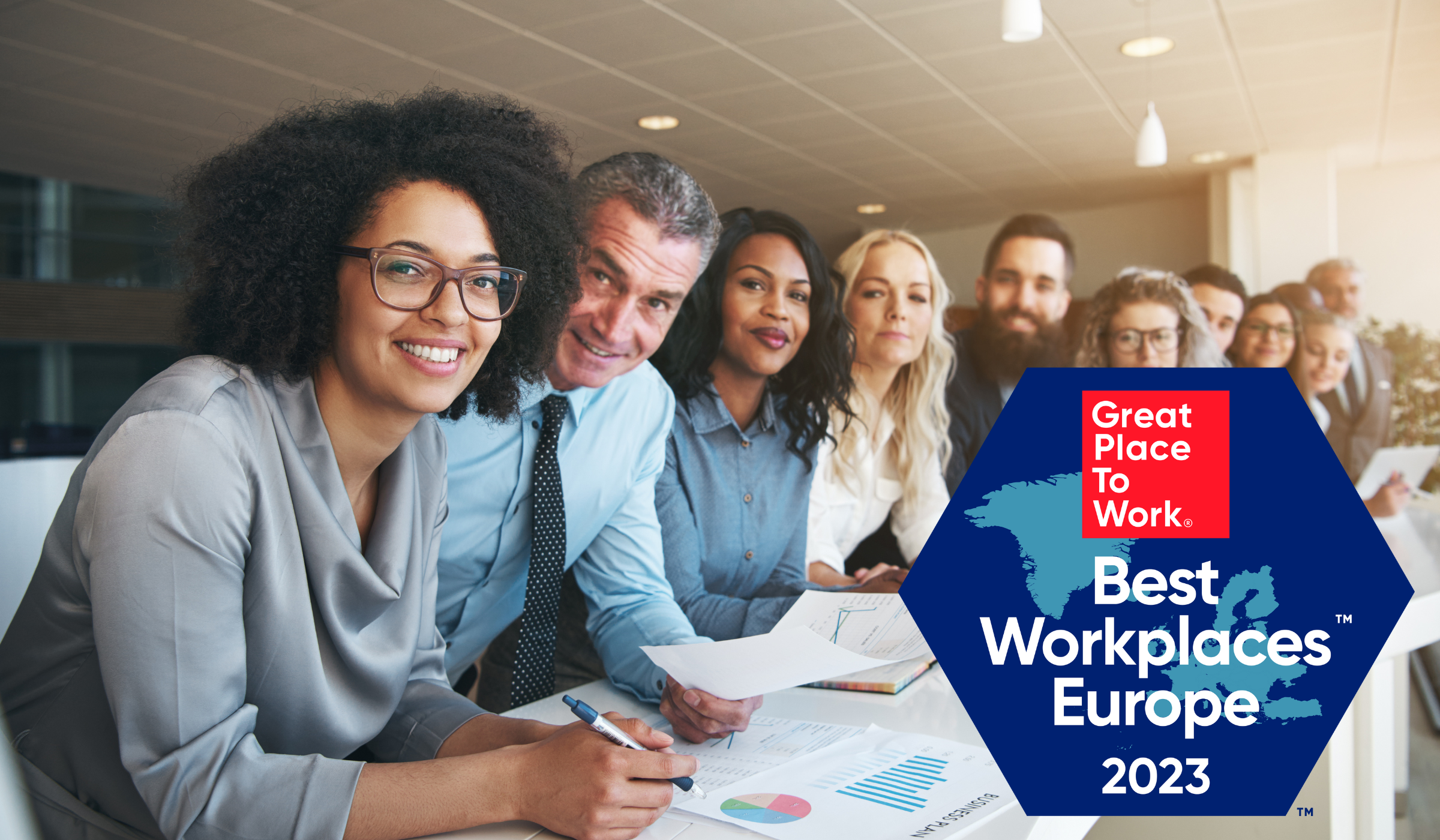 The 2023 list of the 150 Best Workplaces in Europe™ is here. And while these companies vary in size, sector, approach, and perspective, they all have one thing in common: their leaders are Pioneers of Trust. Leaders who do things differently, and who understand that culture is a major factor in a company's success. True pioneers who act with empathy and lead by example.
But isn't trust intangible? Are there actually pragmatic and effective ways to increase trust within an organisation? There are. And it all begins in the hearts and minds of leadership.
What the data tells us
All the Best Workplaces in Europe™ have things in common. They all foster company cultures that make their employees feel seen, heard, and appreciated. They all enjoy growing business opportunities. But what truly sets them apart from the average employer? Their trust scores are nearly twice as high.
The participants
In total, we sent our Trust Index™ employee survey to more than 2.6 million European employees at 3,350 companies in 44 countries. And we received more than a million valid survey responses. As always, companies were categorised by size: small (10-49 employees), medium (50-499 employees), large (more than 500 employees) and multinational (more than 1,000 employees in at least three countries, with 40% or more of employees working outside of the headquarters country).
We selected the 2023 Best Workplaces in Europe List by analysing companies' workplace programs and surveying over 1 million employees across multiple countries in the region.
While all participating companies scored an average of 79% on the complete survey,

the 150 Best Workplaces in Europe scored 90% or higher

. As comparison, the global general workforce scores an average of 55% on the consolidated score.
Individual excellence
The highest-ranking companies also stood out among other participating companies on specific statements. This seems to indicate that these are areas for special attention for companies aiming to enhance their culture of trust. Overall, the greatest score differences between the Top 150 and other participating companies were reported in:
Employment benefits: We have special and unique benefits here.
Fair remuneration: I feel I get a fair share of the profits this organization makes. And people here are paid fairly for the work they do.
Development opportunities: I am offered training or development to further develop myself professionally.
Involvement in decisions: Management involves people in decisions that affect their jobs or working environment.
Appreciation & recognition: Everyone gets the chance to receive special recognition.
But we also see significant financial benefits from a culture of trust. A recent study we conducted in the Netherlands revealed that companies with a Great Place To Work Trust Index™ employee survey score above 90% in the categories 'intention to stay', 'willingness to endorse the company to friends and family' and 'customer centricity' also enjoy 17% higher revenue growth, 15% higher growth in employee numbers, and a whopping 75% greater number of new applicants per 100 employees, when compared to companies who score 70% or less on the Trust Index in these categories.
The fight for retention
As Europe continues to feel the pain of high energy prices and weak growth, the numbers tell a strange story. Economic output of the 20 countries that use the euro currency dropped in two consecutive quarters, meeting the technical definition of a recession. Yet, labor markets are not falling apart. Unemployment is at its lowest level since 1999.
That means businesses are forced to balance a challenging economy with a hot labour market, and fight to retain their best employees. That's exactly what the best companies in Europe have done, and investments in employee well-being have led to better retention rates and higher rates of productivity. At the Best Workplaces in Europe™, 88% of employees report they intend to stay with their company long-term. In a global benchmark survey, only 58% of employees at a typical company planned to stay.
How the Best Workplaces in Europe

™

stand out
One of the many ways companies on the 2023 Best Workplaces in Europe™ List stand out is by offering flexible work arrangements. At winning companies, 83% of employees reported special and unique benefits, 18 percentage points higher than at other workplaces participating in this year's survey.
Both large and small companies on the list invested in their workers by giving them extra time away from the job. Untile, No. 13 in the small category, closes the office for one afternoon each month to give employees free time to pursue personal interests. Cadence, the No. 9 in the multinational company category, introduced Global Recharge holidays to provide employees with 12 days of companywide time off to spend with friends and family.
Some companies embraced hybrid work arrangements to offer more flexibility to employees. Synoptik Sweden AB, No. 41 in the large company category, increased flexibility for its opticians by offering digital eye exams that opticians could administer over Microsoft Teams.
To successfully offer flexible work, winning companies had to develop trusting relationships with employees; "Whether it's working from home, coming into the office, or a combination of both, we trust our employees to manage their time and deliver exceptional results," shares Amdocs Development Ltd., No. 11 in the large category.
When employees feel trusted, they have more faith in their managers. At winning companies, 86% of employees said management does a good job assigning and coordinating people, compared to only 71% of employees at other workplaces surveyed.
Check out who made Ireland's Best Workplaces 2023 👇
Building connection
While European workers value flexibility, they also value in-person time with coworkers. Distilled, No. 24 in the medium category, goes to great lengths to help team members connect with each other. Group hikes and "stay connected" breakfasts are held monthly. In-person huddles and "Wellness Wednesdays" are held quarterly, with the entire company coming together four times a year for what it calls "Company Days."
"One of our core values is collaboration and in order to collaborate effectively it's important to get to know your colleagues, and we believe the best way to do this is in person," Distilled shares. "Our Company Days usually include team building activities, games, and challenges that encourage collaboration, communication, and bonding among colleagues."
At Deloitte, No. 19 in the multinational category, 700 practitioners from its businesses meet and compete during a multi-day sporting event called the "Derby." Employees participate in sports activities including mountain biking, trail running, canoeing and more, with employees preparing for months to be ready for the big event.
The result for Deloitte is a culture of camaraderie and team spirit; "This culture of belonging and pride permeates through our interactions, fuels our motivation, and drives our pursuit of excellence," Deloitte says.
The data shows camaraderie between colleagues pays off. At the Best Workplaces in Europe™, 90% of employees say they look forward to going to work and 93% agree that people at their company are caring. In a 2021 benchmark survey of global employees, only 57% of workers said people at their company are caring.
Promoting well-being
By balancing flexibility and connection, the Best Workplaces in Europe are able to offer higher levels of well-being for their employees. DHL Express, the No. 1 in the multinational category, uses company events like the DHL EuroCup to foster relationships between employees and promote well-being. The EuroCup brings together 3,000 DHL employees to participate in four days of sports competition and well-being activities, including yoga, sound meditation and kayaking. Employees can hear from inspiring speakers and connect with sponsors like the Premier League football club Manchester United.
The event demonstrates to DHL employees the company's commitment to well-being and reinforces important company values by bringing employees together to learn and celebrate shared goals.
Some of the Best Workplaces in Europe invest in their people through professional development. At Easi, No. 3 in the medium category, employees are encouraged to participate in coaching and training from their first day on the job. The company has a strong commitment to develop and promote from within.
Other companies are focused on financial well-being for their people, a need that has been highlighted amid rising inflation and economic anxiety in the region. AbbVie, the No. 2 in the multinational category, expanded financial health resources for its people in 2022 and 2023. Programs offer education about personal finance, tips on using AbbVie's financial tools, and other resources to provide clarity and support.
The result of these efforts can be measured in multiple ways. At the Best Workplaces, 88% of employees report a psychologically and emotionally healthy workplace, 14 percentage points more than for employees at other workplaces surveyed. And when compared to the global average, the gap is even larger. Only 55% of employees at a typical company reported a psychologically and emotionally healthy workplace, revealing the huge benefit to workers of having their employer on the Best Workplaces in Europe list.
Workers at the best workplaces are more likely to have flexibility, meaningful connections with coworkers, and a healthy work environment. In return, those experiences inspire workers to do great work for their companies.
Check out more resources from us on this topic:
Building the trust
Want to build trust in your own organisation? It starts with you. With your focus, attention, and imagination. With your willingness to be vulnerable and empathetic. Your commitment to work at it every day, in both big and small ways. In major policies and minor interactions. In what you say and do. And it will all take time. Give yourself time to build your culture. But also, give your employees the time to offer their opinions, consider their choices and process information. Trust isn't created in a day. And true pioneers know that the only way to succeed is to keep trying.
Be sure to continuously reflect on your own behaviour and that of your senior leadership. Do you walk the talk every day? Do you interact closely with your teams and demonstrate that you trust them? Do you act in a trustworthy manner, with empathy and understanding, at all times? Then, you're well on your way. Next, with openness and humility, with honest and genuine social interaction and a healthy serving of tolerance and openness, you can explore ways to bring a truly unique flavor of trust to your organization. Establish programs your employees truly appreciate. Offer incentives that make their day. Create an atmosphere where diversity is celebrated and creativity is rewarded. Make your culture visible to your customers. Then, you will begin to establish yourself as a future Pioneer of Trust.
Discover the Best Workplaces™ in Europe 2023! 👇
How to become a Best Workplace in Europe™
Great Place to Work identifies the Best Workplaces in Europe by analysing companies' workplace programs and surveying over 1.4 million employees across multiple countries about the key factors that create great workplaces for all.
To be considered, companies must first be identified as outstanding in their local region by appearing on one or more of our Best Workplaces lists in Austria, Belgium, Cyprus, Denmark, Finland, France, Germany, Greece, Iceland, Ireland, Italy, Luxembourg, Norway, Poland, Portugal, Spain, Sweden, Switzerland, The Netherlands, Turkey and United Kingdom during 2022 or early 2023.
Think your company deserves special recognition? Get in contact with our team below to become eligible for next year's Best Workplaces™ honours!
About Great Place to Work®
Great Place to Work® is the global authority on workplace culture. We help organizations quantify their culture and produce better business results by creating a high-trust work experience for all employees. We recognise Great Place to Work-Certified™ companies and the Best Workplaces™ in more than 60 countries.
To join the thousands of companies that have committed to building high-trust company cultures that help them attract, retain and take care of their people, contact us about getting Certified today.