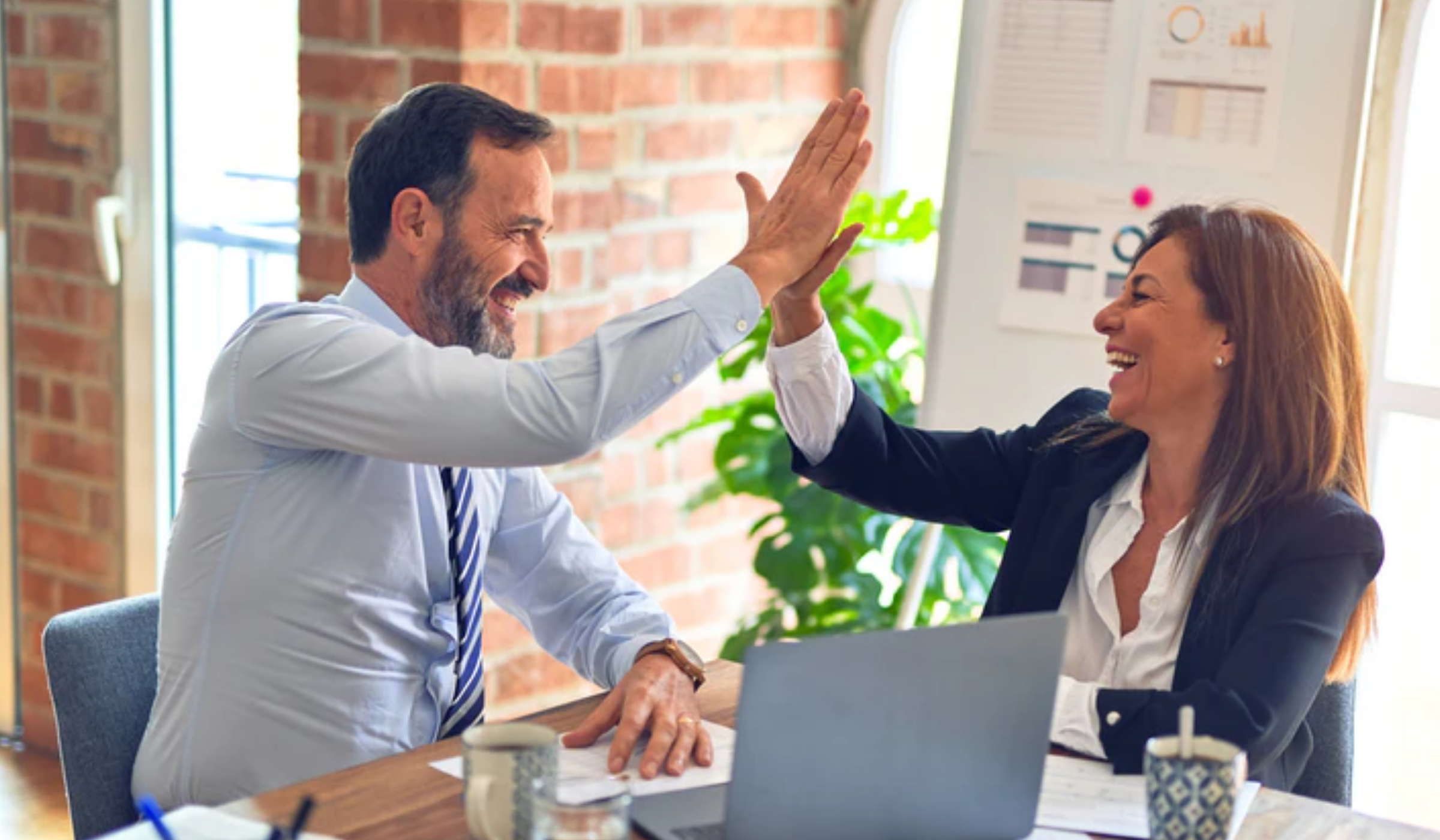 From remote to hybrid settings, lockdowns, zoom fatigue, the talent reshuffle, and much more, Human Resources have played a core role in companies' success again this year. In this first article of the year, we have compiled for you 10 suggested resolutions to put in place or develop to ensure success in 2022.
1 - Focus on doing the basics well
No need to reinvent the wheel for 2022. Review what you already have in place and focus on the basics. Employees hamper delivery have become the new free fruit basket in the office, and that's great for the employee experience. But before that, you need to get the basics right. Are your employees fully equipped to work remotely? How are you supporting them in the work-life balance? What about their mental health? How do you ensure good two-way communication? Do leaders deliver on their promises? By focusing on the basics, you are proving to them that you invest in their priorities and that you put people first in your organisation.
2 - Learn from 2021 challenges
The number of challenges the last year has brought for Human Resources is a high as the number of times we have heard "Do you hear me well?" in virtual meetings - insane.
In these very stressful times, we tend to act on things asap and check them out of the To-Do-List and move on to the next one. Let's take some time now to reflect on all the challenges we had in 2021 and draw out the learnings from them. For sure, there are plenty of new habits we can keep for 2022 and certainly many situations and decisions we can be proud of. Have you made some tough decisions that made you uncomfortable? Think of the positive outcomes of it today! Have you faced some challenges tougher than others? Think of how you could have done it differently. 2021 is not a year to forget, but a year to learn from.
3 - Develop a strong people strategy
All along with doing the basics right and reflecting on 2021 should come developing a strong people strategy. Nowadays, most companies have a business strategy. However, while this business strategy relies on people, we do not always develop a people strategy. If people are our greatest asset, then we must ensure they are retained, engaged, developing, and invested in the success of the company. Do you have a strategy in place underpinning this?
If we want to reach our goals as a business, we need to create a culture that enables success.
Take a look at our article on 7 principles for developing a great people strategy.
4 - Measure Trust to improve Employee Engagement
When your employees feel that the company includes them in its growth, that's where the magic begins. Allow your employees the opportunity to speak up to find out what they think, where they think the company is going, and what part they have in that growth. Using a variety of tools such as surveys, focus groups, or 1:1 conversations, you can ensure that you are gathering a wide range of perspectives.
Once you have collected responses, make sure you communicate effectively. It's a great way to close the loop and make sure your employees feel valued, which in turn builds trust.
In an organisation with high trust, employees are more likely to give constructive and honest feedback. Feedback from the people at the heart of the strategy can help you identify where you can improve trust within your organisation. Building trust with your employees not only gives your company a competitive advantage but also increases employee retention.
5 - Support Employees through New Ways of Working
In 2022, companies need to support their employees in overcoming the challenges posed by new ways of working and help them adapt to change. A healthy workplace culture that contributes to psychological well-being by providing a sense of camaraderie and collective purpose must be preserved.

From our experience working with clients who employ large numbers of remote workers, we know that over time it has been extremely difficult to separate work and life when working remotely. Supporting parenting and creating a family-friendly culture, onboarding new employees, or training and development should also be included in the work plan.

As Gandhi said, "Be the change you want to see". If you want your team to become more adaptable, you must first model this behaviour yourself.

Read more about building a hybrid work model here.


6 - Tackle Diversity & Inclusion challenges
We often hear that "Diversity is being invited to the party, inclusion is being asked to dance". As an organisation, you are the party host and you must ensure everyone is asked to dance.
Creating a trusting culture where employees feel equally included and supported IN ALL areas of the workplace is key to building trust and engagement.

When we talk about D&I, it refers to the diversity of people in terms of gender, nationality, sexual orientation and identity. Inclusion means that a diverse range of people should be included, supported, empowered and trusted.

Here are 5 ideas on how to improve diversity and inclusion in your business for the long term.
7 - Incorporate Sustainability for a sense of satisfaction and meaning
Employee CSR work is becoming more and more of a focus. Nearly 40% of Millennials chose a job because of corporate sustainability, according to Fast Company (1), and are willing to sacrifice a portion of their salary to work for a company that is sustainable and can provide social benefits.
Incorporating sustainability into your company culture can help your employees connect mentally and emotionally with workplace values and activities. Actions such as eco-friendly challenges such as cycling, less food waste and more energy efficiency at home and in the office, facilitating sustainable commuting, etc.
In a time of many changes and transitions, employees want to feel valued, feel they are doing their jobs well, and feel they are making a difference in the world.
8 - Find your differentiator to win the war for talent
How can you ensure that your employer brand stands out against competitors and that you reach your talent audience needs? Creating a compelling "why" talent should choose your organisation is a must. Your employee value proposition can act like this "why" for attracting talent so how do you create this.
Look internally, look at what you currently do well for your existing employees – do you have a good wellbeing approach? good progression opportunities? an exciting portfolio of clients that talent will work with?
An employee experience survey such as the Great Place to Work survey will highlight your key strengths and help you develop your EVP. Once you have your employee value proposition defined you can then communicate and storytell externally your unique employer offering to the talent market.
Learn more about Employer Branding here.
9 - Build Meaningful Connections
Together, we are building a learning community where great workplaces can share their beliefs and experiences, build authentic relationships, and benefit from the support of other great workplaces to improve their culture and become high-trust organisations.

Get inspired by some of the greatest leaders and companies and apply them to your own business. Share ideas with Great Place to Work members and build meaningful connections.
Check out who made Ireland's Best Workplaces 2023 in our exclusive report below 👇
10 - Get a third-party validation for your great culture
You have invested a lot in creating a great culture and workplace for your people? Get an external endorsement for it and gain credibility in the market!
By joining the Great Place to Work Programme and achieving the recognition threshold, you are not only showcasing to the world you are a great employer but you also get a worldwide known external validation of it. Once you are accredited, you can include your Certification™ logo on your website, careers page, role listing, social media accounts and much more. All excellent ways to increase the credibility of your brand and help you stand out from the rest.

When you can leverage Great Place to Work certification to enhance your Employer Brand, you are demonstrating your commitment to your people. You are stating that you are investing in creating a culture built on trust, camaraderie, fairness, credibility, pride, and respect. Your status as one of Ireland's Best Workplaces gives you an advantage over your competitors in the war for talent.
About Great Place to Work®
Great Place to Work® is the global authority on workplace culture. We help organizations quantify their culture and produce better business results by creating a high-trust work experience for all employees. We recognise Great Place to Work-Certified™ companies and the Best Workplaces™ in more than 60 countries. To join the thousands of companies that have committed to building high-trust company cultures that help them attract, retain and take care of their people, contact us about getting Certified today.