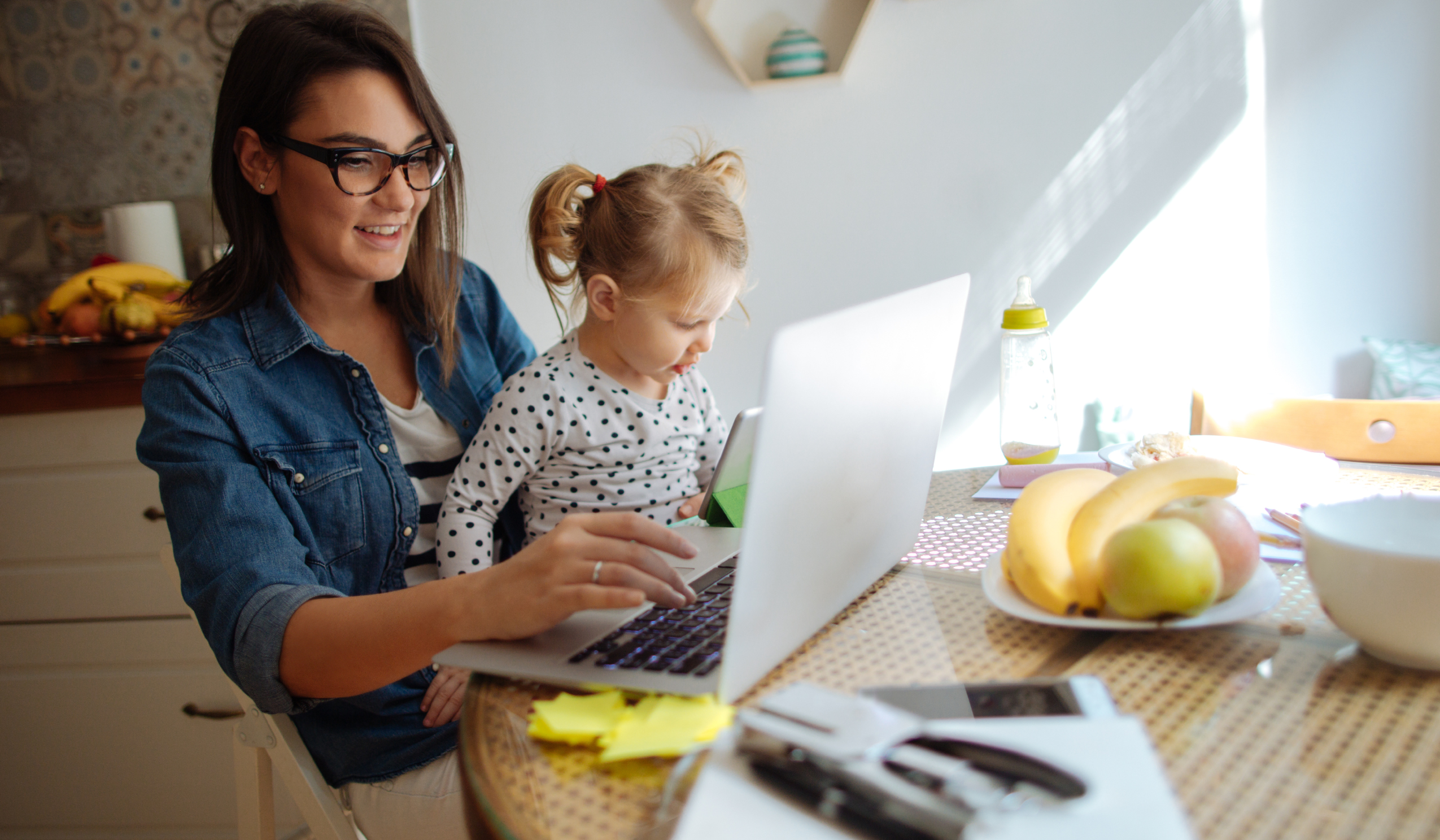 Women are playing a pivotal role in the Irish dynamic workforce, in addition to the key role they play in the household. Working mothers are striving to balance their professional and family lives. Recent findings from a survey conducted in 2023(1), involving insights from 2,000 professionals, have revealed concerning trends for working mothers in Ireland:
Almost two-thirds of working mothers report their career promotions have been blocked

Working mothers are four times more likely than working fathers to miss negotiated pay raises.
These revelations reflect a complex landscape where the pursuit of career advancement and pay equity often presents obstacles.
As we dive into the experiences of mothers in the workplace, we will examine the roadblocks they encounter, the inequalities they confront, and the urgent need for a transformative shift in workplace dynamics. From understanding the challenges to embracing practical solutions, this blog aims to champion the cause of mothers in the workplace and foster a more inclusive and equitable work environment. We will also shine a spotlight on two great workplaces in Ireland - Core and Cpl - to understand how they support mothers in the workplace.
1.

Challenges faced by Working Mothers in Ireland
"Almost 90% of working women have experienced feelings of being overwhelmed at times due to the pressures of balancing work and personal commitments(5)."
Being a working mom comes with a fundamental dilemma: the delicate juggling act of managing their careers alongside childcare responsibilities. A recent research study(2) sheds light on the intricate balancing acts these mothers undertake. Their commitment extends to both their professional roles and their families, often translating into longer working hours. This dedication underscores the importance of formal childcare options, such as creches and childcare centres, which have become indispensable support systems.
"Due to the burden of childcare costs, half of working mothers contemplating quitting their jobs due to this financial strain(5)."
However, this balancing act comes with its own set of challenges, particularly related to the cost and availability of childcare services in Ireland. In fact, Ireland ranks among the countries with the highest costs for full-time childcare(3) within the Organisation for Economic Co-operation and Development (OECD). In Ireland, a couple with an average income would need to spend between a third and a half of one salary to pay for two children in childcare(4).
The study(2), conducted from February 17th to 27th, underscores the need for a more equitable and supportive work environment for Irish women but also for fostering a society that values their contributions and supports their aspirations. In the next sections of this blog, we will explore further insights, examine potential solutions to address these challenges and foster a more inclusive environment supporting mothers in the workplace.
2. Supporting Mothers in the Workplace is Good for Business
Support for working moms in the workplace is not just a matter of empathy; it is also a smart business move(6). Empowering mothers in the workplace not only brings diverse perspectives but also enriches decision-making processes and encourages innovation. As a result, businesses engaging in these practices often see improved business outcomes, including increased innovation, talent retention, and productivity. Such support also leads to higher employee loyalty, reducing turnover rates and enhancing the company's reputation as an attractive workplace for top talent. Overall, it is crucial to invest in your culture to sustain growth and success.
Additionally, cutting-edge parental benefits play a pivotal role in attracting and retaining diverse talent while promoting employee well-being and reducing healthcare costs. It is worth noting that mothers are 28% more likely to experience burnout than fathers, with an estimated 2.4 million additional cases of burnout due to the unequal demands of home and work(6). Reducing burnout not only benefits employees but also increases their likelihood of staying with the company, emphasising the importance of tailored policies to address the unique causes of burnout.
Ireland's Best Workplaces for Women™ 2023
👇 Click on the image to download the special report 👇
3. Practical Solutions for Employers to Support Mothers in the Workplace
1. Offer Flexible Work Arrangements
By supporting working mothers with a suite of flexible work arrangements and procedures that facilitate work-life balance, working mothers in Ireland better accommodate their work-life balance and can help foster an atmosphere where everyone can thrive both personally and professionally. Offer flexible working hours or remote work options to accommodate working mothers' needs and promote work-life balance.
Various forms of flexible working ways include full-time with flexible hours, remote and hybrid models, part-time, job sharing, term-time, compressed hours, annualised hours, and ROWE (Results-only Work Environment).
Core, one of Ireland's Best Workplaces 2023 in the Large Category, offers the option of working a shorter week or shorter hours along with their Back-to-Work programme, which includes reduced working weeks for four weeks at full pay.
2. Create Family-Friendly Workplaces
As mentioned earlier, the primary barrier for working mothers is the rising cost of childcare services. Consider providing onsite or subsidised childcare facilities to ease the burden on working mothers.
Overall, employers can foster a family-friendly work environment by promoting gender equality and community values. Such values can be highlighted by providing a range of benefits, including health insurance, EAP services with family coverage, parental leave for both parents, support for mothers re-entering the workforce after maternity leave, childcare assistance, etc.
This approach yields benefits for both employees and organisations, as research shows reduced work-family balance conflict, heightened job satisfaction, increased commitment, and lower turnover rates. Great Workplaces often embrace these supports, observing positive effects on engagement and retention(6).
Cpl, one of Ireland's Best Workplaces for Women 2023, organise Be Proud Cafes. These cafes are hosted by parents and are broken into 3 age groups:
Early childhood (birth to age 5),
Middle Childhood (ages 6 to 12),
Adolescence (ages 13 to 18).
They have proven to be a great way for parents to share ideas and experiences on topics such as the return school, transitioning from primary school to secondary school and others ideas for festive times in the year such as Christmas, Halloween & Easter.
3. Provide tailored Returnship Programmes
Implement mentorship programmes or buddy programmes to support working mothers when returning to the workforce, career development and growth for working mothers.
Core has developed support programmes that all employees can avail themselves of, no matter what title, level, or life stage. They also offer maternity coaching on return to work from maternity leave and allow people to select the level of communication they want while on parental leave. This allows women to control the communication they are comfortable and happy with.
Returnship programmes are tailored for individuals re-entering the workforce and offer a practical pathway back to work. Many women, who have taken time off often find the door to re-entering the workplace closed. Returnship programmes for mothers or caregivers are designed to help individuals re-enter the workforce after a career break. These programmes recognise the value of experienced professionals who may have taken time off for several reasons, such as raising children or caring for family members, and aim to facilitate their transition back into the workforce. They aim to change that narrative and provide a valuable opportunity for a successful return.
4. Empower working mothers financially
Measures of the gender pay gap encompass a wide range of inequalities that women face in access to work, career advancement, and pay, such as sectoral segregation, unequal distribution of paid and unpaid work, the glass ceiling, and wage discrimination.
Let us remember that women's salaries are as important to household financial health and freedom as men's! In Ireland, the gender gap was 14.4% in 2021, a decrease of 2.9 percentage points in 14 years(8).
Bridging the gender pay gap fosters, a sense of social justice and equal opportunity in society. It reduces the risk of women's impoverishment and improves the quality of childcare health care, and overall economic success. Companies that do not address this issue seriously may face consequences in terms of job performance, employee retention and reputation.
Empower your female employees by offering full-time maternity leave so that they maintain their wellbeing and financial capacity while caring for their child. Analysing your compensation reports or providing a transparent salary scheme are some ways to help close the gender pay gap and strengthen your organisational culture. The Equality Act of 2010 mandates equal pay for equal work, and the Gender Pay Gap Act, introduced in July 2021, requires companies with over 250 employees to report and address their gender pay gap from 2022.
This legislation will emphasize disparities driven by factors such as women's higher representation in part-time roles and career interruptions for family care. It is imperative for companies to proactively address these issues and promote workplace equality.
Conclusion
Irish women play essential roles both at home and in the workplace. However, significant challenges for working mothers are still encountered such as career obstacles, pay inequality, and the strain of balancing work and family. These findings highlight the urgent need for a workplace transformation. To address these issues, employers should embrace practical solutions, such as offering flexible work arrangements, creating family-friendly workplaces, implementing returnship programmes, and closing the gender pay gap. Supporting mothers in the workplace not only benefits women but also drives business success and profitability, making it a smart choice for employers in Ireland.
Become a Best Workplace™️ for Women 2024
The Best Workplaces for Women™ recognises those top organisations which, while providing a great work environment for all employees, are creating positive environments supporting mothers in the workplace and women overall. To be considered the Best Workplace™ for Women, participating organisations are required to be Certified™ as a Great Place to Work first. The Certification™ is the first step towards any Great Place to Work recognition.
Deadline: Trust Index survey completed by mid-December 2023.
Included with participation in the Best Workplaces in Ireland or Certification programmes.
About Great Place to Work®
Great Place to Work® is the global authority on workplace culture. We help organisations quantify their culture and produce better business results by creating a high-trust work experience for all employees. We recognise Great Place to Work-Certified™ companies and the Best Workplaces™ in more than 60 countries. To join the thousands of companies that have committed to building high-trust company cultures that help them attract, retain and take care of their people, contact us about getting Certified today.
More resources to foster an inclusive and equitable work environment